Leopard returns to house where it mauled a girl, trapped
The forest officials in Uttarakhand on Thursday trapped a female leopard, suspected to have attacked children in three separate incidents, after the animal returned to an area where it had mauled an 11-year-old girl on Tuesday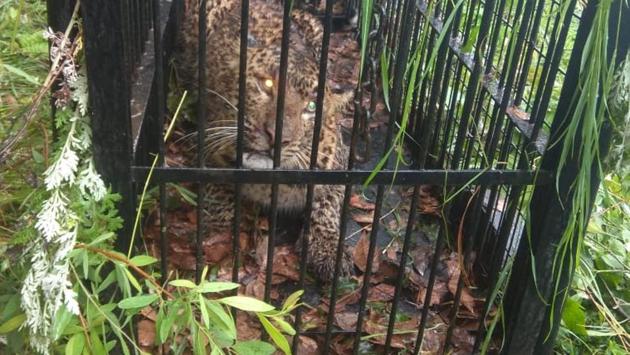 Updated on Jul 12, 2018 09:22 PM IST
The forest officials in Uttarakhand on Thursday trapped a female leopard, suspected to have attacked children in three separate incidents, after the animal returned to an area where it had mauled an 11-year-old girl on Tuesday.
The five year old leopard was trapped in Ramgarh block of Nainital, officials said.
TR Bijulal, divisional forest officer (DFO), Nainital said the leopard had on Tuesday night attacked 11-year-old Kanchan Lodhiyal in Sadbunga Dutknadar area and started dragging her into the nearby forest. "The girl's family members and neighbours made noise following which the leopard left the girl and escaped into the forest. The girl is being treated for puncture wounds," he said.
The enraged locals demanded that the leopard be declared a man-eater as it had earlier twice attacked children in two separate incidents in the area, killing one of them.
Following the demand, the forest department set up a cage near the girl's house to trap the leopard. "This leopard returned on Thursday morning and was caught in the cage," Bujulal said, adding the big cat has been shifted to Ranibagh animal rescue centre. "It won't be released into wild."
Kumaon region has reported several incidents of leopard attack in the recent past. Last month, a leopard killed a five-year-old boy in Pithoragarh's Pokhri village.
Earlier on June 10, a leopard killed a seven-year-old boy in Harinagari area of Bageshwar district. After the half-eaten body of the boy was found, the enraged villagers had set the nearby forests on fire. Prior to that, in March, the same leopard was suspected to have killed a four-year-old child in the area.
Later hunter Lakhpat Singh, who was deployed by the forest department, gunned down the leopard.
The leopard was trapped in Nainital a day after another suspected man eater was shot dead a in Motichur range of Rajaji Tiger Reserve. The reserve authorities said they had strong suspicion that the leopard, which had one of its paws missing, had claimed a number of victims in villages neighbouring the reserve. "The disability may also have been the reason why the big cat had become a man-eater instead of hunting in the forests for prey," RTR director Sanatan Sonkar had said.
Notably, 20 people have been killed in the Motichur-Raiwala area by leopards in last few years.
The Himalayan state has in the last 13 years declared 182 big cats, including 166 leopards and 16 tigers, as man-eaters, according to forest officials.
Topics
Close Story