Offered at temples, over-harvesting threatens survival of state flower
Oct 03, 2017 09:02 PM IST
DEHRADUN: Excessive harvesting of Brahma Kamal, the state flower of Uttarakhand, for religious purposes has threatened the survival of the plant species, which grows above an altitude of 14,000 feet, scientists said.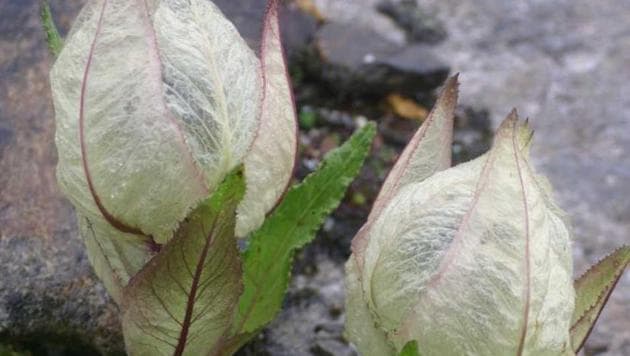 The species – its botanical name is Saussurea obvallata – is found in the Himalayas. The species is declining around the shrines of Yamunotri, Gangotri, Kedarnath and Badrinath. Kedarnath Wildlife Sanctuary, Nanda Devi Biosphere Reserve and Askot Wildlife Sanctuary are the only areas where the species is protected.
"The flower is extensively used in all four shrines and other temples in higher-altitude areas as offerings. But no one is paying heed its conservation and plantation. If this continues, the species would soon disappear," GS Rawat, dean (academics) at the Wildlife Institute of India (WII), told Hindustan Times.
Brahma Kamal, named after Brahma, the god of creation, remains intact throughout its life cycle. It blooms only one night in a year, exposing its star-like petals. The one who sees the blooming flower, it is believed, is blessed by Brahma, and will have prosperity and wealth.
The white-petal flowers, priests say, are the most sacred and should be offered in temples. "The flower is of great significance in rituals performed at the shrines and other temples," said Kuber Nath Posti, a priest at Kedarnath shrine.
Concerned over the over-harvesting of the flower, Rawat said, "It's important to start a species recovery programme immediately if we wish to safeguard it (the flowering plant)."
Experts suggest farming of the species, naturally confined to high-altitude areas, in other areas of the state. Areas in Nainital, Rudraprayag, Chamoli, Pithoragarh and Almora are considered suitable for plantation. The institute, however, hasn't recommended this to the forest department.
"We have already alerted the department. If they wish, we can involve ourselves in its conservation programme," Rawat said.