Plastic waste will double in 23 years in Uttarakhand: Pollution board report
Jun 04, 2018 10:14 PM IST
Going by current concentration of plastic waste in a day in total municipal solid waste of 81 cities of Uttarakhand, which is 17% at present, average tonnes of plastic waste is going to double in 2041, according to a latest survey
Going by current concentration of plastic waste in a day in total municipal solid waste of 81 cities of Uttarakhand, which is 17% at present, average tonnes of plastic waste is going to double in 2041, according to a latest survey.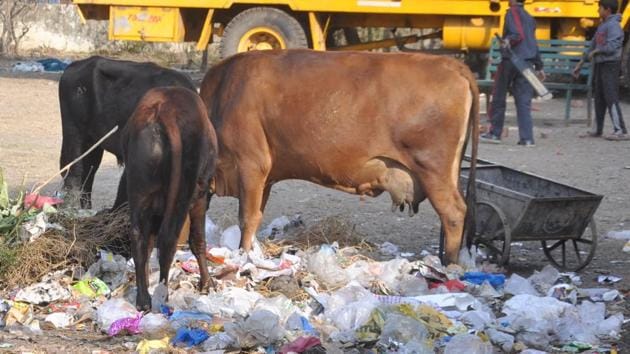 The survey conducted by the Uttarakhand Environment Protection & Pollution Control Board (UEPPCB) in 2016-17, 272.22 tonnes per day plastic is reported from the total waste which is going to increase 457.63 tonnes in 2014.
It is going to pose severe implications to the hill state.
SP Subuddhi, UEPPCB member secretary, said, "Current percentage of plastic waste is already alarming. And if we continue to excessively use the plastic like today, then the plastic content would be nearly doubled by next 23 years."
Dehradun is the topmost city to contribute the highest plastic percentage in the waste. The survey stated that 327.9 tonnes per day of plastic is added to the waste in the state capital which is going to increase to 584.051 tonnes per day.
Second is Haridwar with 236.5 tonnes a day and it is going to increase by 368.363 tonnes a day in the given period.
Activists said increasing population and tourism were two main reasons behind this malaise.
"Even of population and tourism are two reasons which are plaguing hills, every citizen of the state could contribute to curb plastic use. People should stop buying plastic and could also promote others in their family and circle too," said Mahesh Bhandari, president Doon resident Welfare Front that worked to replace polythene bags with jute and cloth bags in the city.
Some even demand a policy to ban plastic manufacturers and also create strict rules for tourists.
"Uttarakhand is a tourist abode. Whether religious or wildlife, people from India and abroad come here. We need to have a strategy in place so that tourists could not bring in plastic. Meanwhile, those manufacturing plastic should also be banned," said Sunita Rawat, a resident of GMS road.
The Uttarakhand government in 2015 notified banning plastic, but its implementation could not be done.
The UEPPCB member secretary said in Garhwal and Kumaon regions, officers were raiding shops and retailers, but a comprehensive campaign was still missing.