Woman poses as man, marries two women for dowry in Nainital
Hindustan Times, Dehradun |
Abhinav Madhwal
Feb 16, 2018 07:36 AM IST
Sweety Sen created an account on Facebook in the name of Krishna Sen in 2013 and posted pictures posing as a man. She then allegedly chatted with several women on social media.
A 25-year-old woman allegedly dressed up as a man for four years, duped two women into marrying her and tormented one of them for dowry, police in Uttarakhand's Haldwani said on Thursday.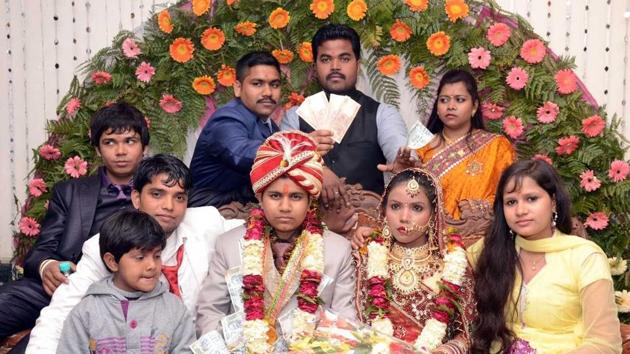 Sweety Sen, a resident of Dhampur in Uttar Pradesh's Bijnore, was "always a tomboy" and started posing as a man, Krishna, in 2013, said Nainital's senior superintendent of police Janmejay Khanduri. She was arrested on February 14 on charges of impersonation, fraud and forgery.
"The lady used to pose as a man in terms of looks and enticed women on Facebook and later married them," Khanduri said.
Police said Sen created a Facebook account in the name of Krishna Sen in 2013 and uploaded photos posing as a man. She then allegedly chatted with several women on social media.
In 2014, Sen travelled to Haldwani's Kathgodam area to meet a woman she befriended on the social media website. She told the Uttarakhand woman, identified as Kamini, that she was the son of a businessman from Aligarh, said the police. The two women got married later that year, and shortly afterwards, Sen allegedly started beating up Kamini, who holds two masters degrees, for dowry. Sen also allegedly took Rs 8.5 lakh from Kamini's family, police said.
"We got married in 2014, she used to behave like a man, used to drink, smoke and also abuse. She used to threaten to kill me after she married another woman," Kamini told news agency ANI.
Two years later, Sen lured another woman from Uttarakhand's Kaladhungi town and married her in April 2016, police said. The "second wife", identified as Nisha, was present during Sen's first wedding as a guest. Sen rented a room in Tikoniya area of Haldwani and kept both his "wives" there, police said.
"The girl from Kaladhungi came to know that Krishna was not a man, but she lured her to keep silent by promising her money. The girl from Kathgodam area lodged a report with the Haldwani Police alleging of dowry demands and threats after which the police made the arrest," Khanduri said.
A police official quoted Sen as having said that she dressed up as a boy since her childhood, and had cut her hair to look the part.
After her "marriages", Sen allegedly did not let the women look at her body or touch her and used sex toys to consummate the relationship, police said. A medical examination concluded that Sen was biologically a woman, Khanduri added.
"We were married for two years, I found the truth about her later. I did not register a complaint. I don't want to live with her now," Nisha told ANI.
Sen was originally charged with dowry harassment but police said they modified the complaint as none of the two unions qualified as marriage.
"Krishna has been booked for forgery and not for dowry. Technically she was not a husband therefore it cannot be treated as marriage," said Sanjay Joshi, sub inspector, Kathgodam who is investigating the case.
Police said they are on the lookout for Sen's family, who were present during both the weddings and allegedly visited the homes of the two duped women.