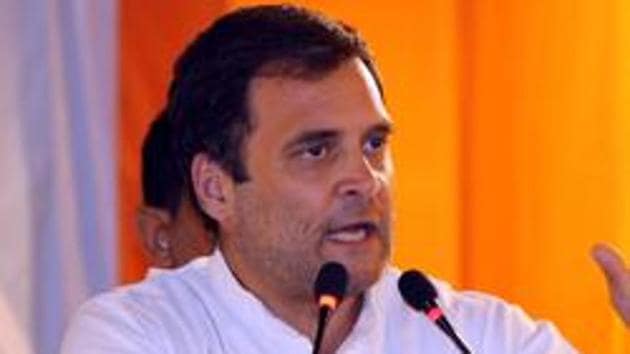 Arvind Kejriwal did a U-turn on tie-up with Congress: Rahul Gandhi
Rahul Gandhi accused the Delhi chief minister of making a "U-turn" on the alliance after Gandhi agreed to give four seats to the AAP.
PUBLISHED ON MAY 07, 2019 04:27 AM IST
In his first campaign rally in Delhi this elections season, Congress president Rahul Gandhi Monday went all out to woo the capital's trader community with assurances of "jump-starting the economy", while laying the blame for the failure of a tie-up between the Congress and the Aam Aadmi Party (AAP) squarely on Kejriwal's shoulders.
He accused the Delhi chief minister of making a "U-turn" on the alliance after Gandhi agreed to give four seats to the AAP.
He accused Kejriwal of "opening the doors" for BJP's victory in 2014 by spreading "lies" about the Congress.
"I told Kejriwal that you contest on four seats and we will contest three. First, he agreed. Then, he started talking about (seat sharing in) Haryana and Punjab and a made a U-turn," Gandhi said. The AAP, however, did not respond to messages by HT seeking comment on Gandhi's claim.
Trying his best to woo the embattled small traders of the capital, he said his party's Nyay scheme will "jumpstart the economy" and help them recover losses, which they had incurred due to "Prime Minister Narendra Modi's demonetisation and Goods and Services Tax rollout".
"Nyay is the antidote to demonetisation and 'Gabbar Singh Tax', which have destroyed businesses, especially small and medium enterprises," the Congress president said while campaigning for four-time MP and party's Chandni Chowk candidate JP Aggarwal in trader dominated Sadar Bazar area.
He also reached out to the youth promising that starting a business would be much easier once the Congress comes to power in 2019. "The Congress has decided that youth in Delhi as well as across the country will not need to seek permission from government departments to realise their dreams of entrepreneurship," he told a crowd at Sadar Bazar's congested Idgah Chowk.
He also criticised Modi government for not keeping promises such as providing two crore jobs to youth and depositing ₹15 lakh in every citizen's bank account.
Blaming Modi for destroying businesses and farmers with his policies, he narrated a recent incident where an autorickshaw driver, after spotting him at the traffic signal in Delhi, told him "chowkidar chor hai". Gandhi said this is the voice of Delhi right from its heart and Delhi's voice is also the nation's voice.
"Forget about traders, farmers and youth, the PM did not respect his guru Advani ji (L K Advani). He did not show any respect to his guru and threw him off the stage. He does not respect the people of the country as well," Gandhi said.
"The PM made a pungent remark about my father and former PM Rajiv Gandhi. I know that he is making such statements not because of hatred but out of plain fear. "Nafrat ko nafrat se nahi kata jata hai, ..pyar se kata jata hai, Modi ji ( You don't win over hatred with hatred. You do that with love). I hugged you at Parliament House. That same love will defeat you on May 23," Gandhi said.
Close