Boy beaten to death in Delhi's Mukundpur was saving for new phone, says family
The 16-year-old from Bihar worked as an electrician's apprentice for Rs 2,000 a month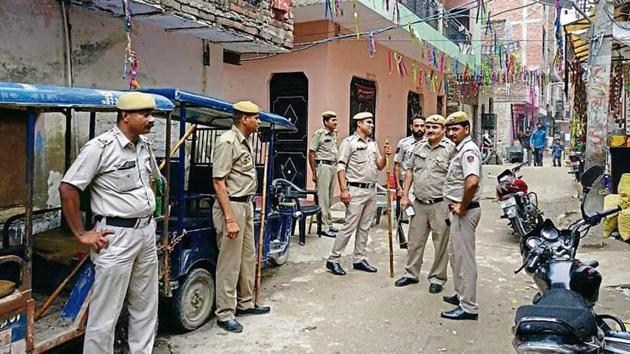 Updated on Sep 05, 2018 09:41 AM IST
Hindustan Times, New Delhi | By Anvit Srivastava
The 16-year-old boy, who was allegedly beaten to death by six men suspecting him of being a thief, would often go to the terrace of his house in Mukundpur to watch films on his phone till late night, said his elder brother Mushahid.
Mushahid remembers seeing him for the last time around 10pm on Monday, when he scolded him for "being on the phone all the time".
"He used to leave home at 9 in the morning for a nearby electronics workshop where he was an apprentice. At 6 pm, he would return home and leave for a two-hour Urdu tuition. I always told him to sleep early. If I knew what was going to happen, I would have not let him go," said Mushahid, a plumber.
He would have bought a new phone after three months, said the boy's uncle Mohammad Baharauddin, who used to live with him. His electrician boss paid the boy Rs 2,000 per month, the uncle said. A juvenile accused of a crime cannot be identified, which is why the boy isn't being named.
The Delhi Police on Tuesday registered two FIRs in the incident. Two brothers, who were allegedly part of the group which beat up the boy leading to this death, have been booked for culpable homicide not amounting to murder and for causing disappearance of evidence.
The dead boy has also been named in one of the FIRs for attempting theft and trespassing.
The boy was the second eldest among five brothers. Till Tuesday afternoon, neither Mushahid nor any of his relatives had informed the boy's mother about his death. His father, Mohammad Zahid, who is a labour contractor and lives in Noida, was informed around 9am.
Zahid said about three years ago the teenager had left their native house in Bihar's Araria and went to Kanpur, where he took admission in a madrasa. "He wanted to become a hafiz (a person who knows the Quran by heart). He had been learning Urdu only to be able to understand the Quran better," Zahid said.
Neighbours described the boy as "shy". They said he barely spoke to anyone in the locality.
"In fact all of them did not interact much with neighbours. But we also never heard them of indulging in anything unlawful," said Durga, who had been living in the same locality for eight months.
Kishor Lata, another neighbour, said she never heard the boy or his brother causing any nuisance. However, she said that they were not very interactive either. "It is surprising that he had sneaked into a house to steal something," she said.
Police said the two arrested accused have claimed that they had caught the boy stealing from their house.
In July, an alleged thief, who had fallen from the first floor of a house in Burari while trying to climb a ladder, was beaten to death by local residents.
Last year in May, an e-rickshaw driver was beaten to death after he objected to a group of Delhi University students urinating in the open. The same year in July, Junaid Khan, who was returning home from Delhi, after Eid shopping, was lynched on board a train in Ballabhgarh.
Close Story