Butterfly population on the rise in Delhi biodiversity parks, say experts
Hindustan Times, New Delhi |
HT Correspondent
Sep 25, 2018 09:24 PM IST
The number of butterfly species at the six biodiversity parks in Delhi has increased this year as compared to 2017, experts say
The number of butterfly species at the six biodiversity parks in Delhi has increased this year as compared to 2017, experts say. This is the second year that a census of the butterfly population —the Big Butterfly Count — is being carried out in the capital.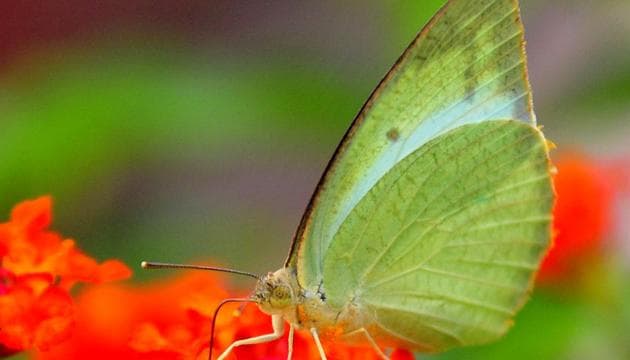 The places where butterflies were counted on Sunday – as part of an event organised by the Bombay Natural History Society (BNHS) included Jawaharlal Nehru University, Sanjay Van, Aravalli Park in Gurgaon and the Okhla Bird Sanctuary.
"Compared to last year, we have seen an increase in the number of butterfly species in all the biodiversity parks of Delhi. The maximum number of species was recorded from the Aravalli Biodiversity Park, followed by the Yamuna Biodiversity Park and Tughlaqabad," said Faiyaz Khudsar, lead scientist, Biodiversity Parks Programme.
"On Sunday, more than 200 participants fanned out across different locations in Delhi and NCR to count the number of butterflies. The final results will be published on September 29," said Sohail Madan, centre manager of the Conservation Education Centre at Asola Bhatti sanctuary, maintained by the BNHS.
Surya Prakash, a biologist from the School of Life Sciences in JNU, said, "Butterflies are cold-blooded insects and are seen in large numbers only a bright sunny day. As it was cloudy, we could not find many species, including the commonly found species such as zebra blue and yellow pansy, this year."
Experts said although butterfly species are rising in biodiversity parks, their numbers are dwindling in other parts of the city. "The primary reasons are fragmentation of habitats and manicured gardens. These gardens lack the host plants, mostly weeds, which attract butterflies. Another reason is the heat island effect which affects their reproductive system," said Khudsar.
Availability of host plants is an important factor behind the rise in butterfly species. Individuals feeding on poor-quality plants typically grow smaller with lower reproductive potential.