This is the first such event planned in the city forest area after the DDA inked a memorandum of understanding (MoU) with WWF India last week to promote nature-based learning and experimental activities, especially for children.

Published on Jul 09, 2022 05:34 AM IST
A senior DDA official said that the plan is to promote nature-based adventure activities.


Published on Jan 21, 2022 04:20 AM IST
In 2019, activists had filed a complaint with the forest department about animals, such as nilgai, getting stuck in the barbed wires, causing them to get grievously injured or die in the process.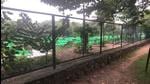 Published on Dec 31, 2021 10:12 PM IST
Sanjay Van, which was carved out of the south-central Ridge near the iconic Qutub Minar in the 1970s, is maintained by the DDA.

Updated on Sep 18, 2021 06:03 AM IST