Curbing industrial pollution in Delhi-NCR should be top priority: SC body
Last October, the Supreme Court had banned two cheap but highly polluting industrial fuels — furnace oil and petroleum coke, commonly called pet coke, and directed Rajasthan, Haryana and Uttar Pradesh to notify the ban immediately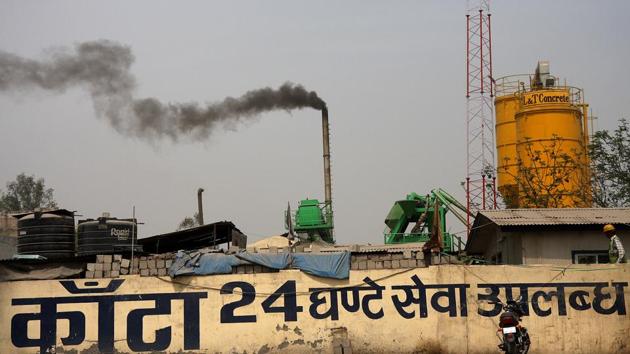 Updated on Mar 01, 2018 12:26 PM IST
Hindustan Times |
, New Delhi
Ritam Halder & Joydeep Thakur
In the fight against pollution in Delhi-NCR, the main focus should move towards industrial pollution, the Supreme Court-mandated Environment Pollution (Prevention and Control) Authority (EPCA) said on Wednesday.
"Pollution control in industries should become the top priority of the Central Pollution Control Board and the state pollution control bodies. We are not finding enough actions on this. Data is not showing much difference yet… All the hotspots of the region (NCR) remains extremely polluted. Be it Anand Vihar, Delhi Technological University, Bhiwadi, and Ghaziabad," EPCA member Sunita Narain said in a graded response action plan (GRAP) review meeting on Wednesday.
Delhi Pollution Control Committee member secretary SM Ali said all industrial units operating in Delhi will switch to piped natural gas (PNG). "We have already convinced all the industrial associations. They are also happy. By the end of 2018, all industries will convert (fuel) to PNG. After that, no consent will be given to anybody using any other fuel," Ali said.
In Ghaziabad, however, industrial associations are opposing the switch over to cleaner fuel.
"Indraprastha Gas Limited is ready to give connections but the industry is reluctant. We have to talk to them and so that they shift to gas," Himanshu Gautam, ADM (City), Ghaziabad, said at the meeting.
Last October, the Supreme Court had banned two cheap but highly polluting industrial fuels — furnace oil and petroleum coke, commonly called pet coke, and directed Rajasthan, Haryana and Uttar Pradesh to notify the ban immediately.
Delhi banned the two fuels in 1996, but their use continued in NCR by cement factories, dyeing units, paper mills, brick kilns and ceramics manufacturers.
During the Wednesday meeting, it was informed that EPCA chairperson Bhure Lal has already written to all four NCR states to make sure that industries either move to gas or set up pollution control equipment for NOx and SOx.
"They (industry owners) have the option to install pollution control equipment or switch to cleaner fuels," Lal, in the letter dated February 21, said.
An Union environment ministry notification issued on January 29, 2018, says, "Emissions from industries need to be monitored and, all such industries would be required to install online monitoring system as per the online monitoring mechanism put in place by CPCB from time to time."
According to EPCA, action should also be taken against non-conforming industries in Delhi. After a Supreme Court order in 1996, most industries were shifted out of the city but smaller units have multiplied over the years. These include electroplating units, dyeing, pickling and forging, among others.
A DPCC survey in 1995-96 shows 1.26 lakh industrial units in Delhi, of which more than 1 lakh were in residential or non-conforming areas and the remaining 25,000 in industrial areas.
"They got their land in Narela or Bawana. Still they are operating from their old sites and given the new space out on rent. These need to be shut down," Bhure Lal said.
A Delhi government official, however, said the industry department needs to be included in the matter. The issue will be discussed in the next EPCA meeting.
Close Story
Personalise your news feed. Follow trending topics