DDA housing scheme 2017: Don't apply, say old allottees waiting for roads, water
Aug 01, 2017 12:49 PM IST
Residents of DDA flats in Rohini sector 34 regret their decision of taking up the houses. With basic facilities like roads and drinking water not available here, residents warn applicants not to get 'caught' in the latest housing scheme floated by DDA.
"Don't apply for this DDA scheme," says a man in a YouTube video posted a day after the new housing scheme was launched. "We've got trapped, you don't make the same mistake," he adds.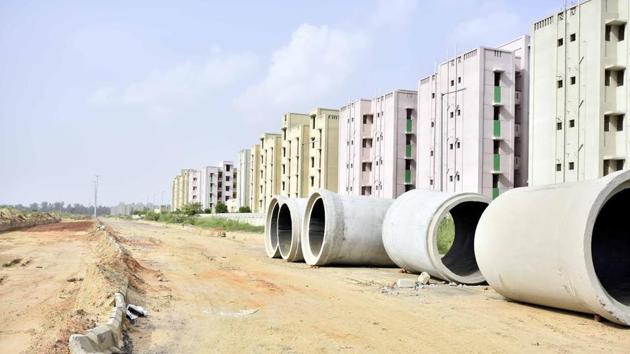 The man in the video is Darshan Vatsa, who lives in LIG flats in Delhi's Rohini Sector 34 allotted under the DDA housing scheme in 2014. Nearly 8,500 allottees under the DDA housing scheme 2014 had returned their flats saying they were not 'livable'.
Vatsa is among those who stayed and are now regretting their decision.
"We came to live in Rohini in 2014 after the flats were allotted under the scheme. Since then roads have not been built here," he is seen saying in the video. "Whether you talk about road, electricity or water, there is no facility. We are either drinking underground water or purchasing it," he says adding, "Please don't fill form. We are trapped but you don't commit the same mistake." Vatsa, who is also member of the Resident Welfare Association of a society, said he had posted the video as he was upset with the DDA for not providing basic civic amenities like roads, drinking water and street lights in the LIG flats despite repeated pleas.
Watch the full video:
Most of the DDA flats on offer this time are the ones that were rejected in 2014 by allottees due to lack of facilities. DDA is now offering 4,349 LIG flats in Rohini sector 34-35 in its housing scheme costing around Rs 14.8 to Rs 15.08 lakh.
HT visited the spot on July 4 to verify the claims of the residents. We found that the roads were dug up and had turned into a mud pool with clogged rainwater. Women were seen collecting water from the water tankers for drinking purpose as the flats do not have water supply yet. The approach road to the sector, too was in a bad shape.
Read: Check here for location and cost of 12,000 flats on offer
A resident of sector 34, Umesh Kumar Vajpayee, said that the Delhi Jal Board water pipeline has not been laid and water is provided by the DDA through tankers.
"This is a very secluded area and with no streetlight it becomes immune to crime," he said. Presently, around 300 families live in over 7,000 flats here.
Meanwhile, DDA has said that it will ensure better transport and civic amenities in the areas where the flats are on offer. DDA vice-chairman Udai Pratap Singh said that the work will be expedited in the sector and completed by the end of the year. "We assure people that we will hand over the keys only after the work is complete. The draw of lots will take place in November and after that it takes at least a couple of months to complete the work. We assure you that all civic works, which have already been started, will be completed by then."
"The laying of pipelines by DJB will also be done by then," he added.
Vatsa told HT that the contractors had dug the area to build an alternate road as the construction work was underway on the main road. "They dug it but forgot that they need to build roads also," he said.
Out of the 25,000 flats auctioned in 2014, nearly 34 per cent were surrendered, citing reasons like small size, overprice and lack of infrastructure. Of the total, 22,627 were one-bedroom apartments in an economic weaker section (EWS) format with area of 25-40 sqm. The flats were located in Rohini, Narela and Dwarka Sector 23.
Read: How to apply for DDA housing scheme 2017
This was one of the highest ever surrendering rates in a housing scheme launched by the DDA.
Another resident, Shiv Kumar Jha, too regrets taking the possession of the flats here. The DDA promised shops , milk booth and anganwadis, in the locality but has not opened in past three years, he said. "Even to buy a match stick people have to travel at least 5km," he added. For residents living here, a motorcycle or a car is a basic necessity as there is no mode of public transport like bus, auto or e-rickshaw to go to the nearest market, Jha said.
The parks are not maintained properly and are overgrown with weeds.
During the rains, the situation gets worse as the approach roads get washed away and mud accumulates over them. People also complain that schools charge extra for their buses to enter the localities due to poor road conditions.