Delhi government will review steps to end manual scavenging
The biggest challenge before the Delhi government is to check on private firms, which illegally engage people to clean sewers manually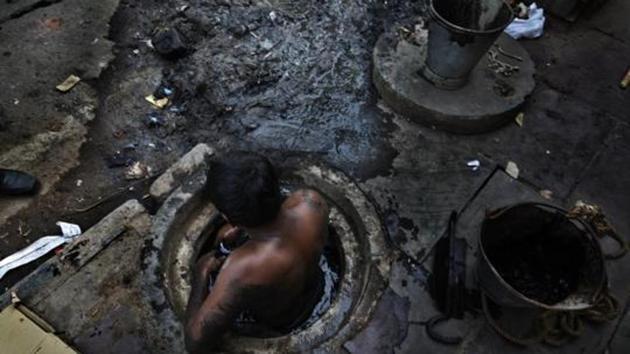 Published on Sep 18, 2018 02:56 AM IST
Hindustan Times, New Delhi |
Risha Chitlangia
The AAP government has, on September 24, called a meeting of the state monitoring committee — constituted as per the provisions of the Prohibition of Employment as Manual Scavengers and their Rehabilitation Act, 2013 — to review measures taken to stop manual scavenging in the city. This comes days after six workers died while cleaning sewers in two separate incidents.
The committee, which will meet for the first time since its formation in December 2017, will discuss the status of surveys identifying manual scavengers and measures planned for their rehabilitation.
Social welfare minister Rajendra Pal Gautam said, "We have taken a lot of measures. The panel will look at various aspects like identifying manual scavengers and coordinating with government agencies for effective implementation of the Act."
The biggest challenge before the government is to check on private firms, which illegally engage people to clean sewers manually. He added that the Delhi Jal Board has prepared a Standard Operating Procedure for cleaning of sewers. "It will be tabled before the Delhi Cabinet for approval. This will make it binding on all private buildings to contact government-approved contractors," said Gautam.
Activists working for the welfare of sanitation workers say the state should have, long ago, taken measures to ensure strict enforcement of the Act. According to data available on National Commission for Safai Karamcharis website, 16 sewer deaths were reported in Delhi in 2017.
"There is technology available to ensure mechanised cleaning of sewer. Why can't the government ensure that no permission is given to a building if it doesn't have the technology?" said Magsaysay awardee Bezwada Wilson, national convener of Safai Karmachari Andolan.
"The Centre and state lack will to implement the Act. The rules have been framed by the Centre but it can't even ensure that the state governments follow it. The government is focussing on Swachhata Abhiyan but little is being done for sanitation workers," he said.
Bindeshwar Pathak, founder of Sulabh International, said, "The government should ensure sewers are cleaned using machines. There should be a mechanism to take action against those found guilty of forcing people to enter sewers."
Chairman of Delhi Commission of Safai Karamcharis, Sant Lal Chawaria, said there is no list of manual scavengers in the city. "I have asked the Delhi government to get a fresh survey done to identify manual scavengers. I have also asked various government departments to send reports on measures taken to create awareness and ensure action against those responsible for sewer deaths," he said.
Gautam said, "We have been able to identify 32 manual scavengers so far. We are in the process of procuring 200 machines, which will be given to them."
The delay in arresting the man accused of causing the death of a sanitation worker in a sewer in west Delhi's Dabri on Friday has allowed him to go on the run. The accused, Satbir Kala, had got himself hospitalised soon after the worker's death, said Anto Alphonse, DCP (Dwarka). He then fled.
Close Story