Delhi pollution: SC seeks reply from Centre, northern states; Kejriwal govt says 'constantly monitoring' situation
The pollution in Delhi worsened on Monday, leading the Supreme Court to issue notices to the Centre as well as UP, Punjab, Haryana and Delhi governments on a petition on stubble burning.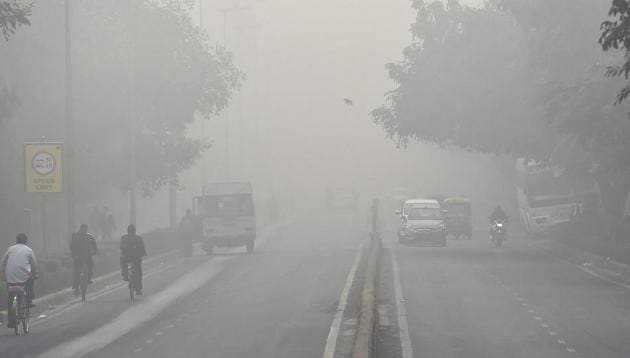 Updated on Nov 14, 2017 12:15 AM IST
The level of pollution in New Delhi worsened on Monday as the Supreme Court observed that it was an emergency-like situation and asked the Centre as well as Uttar Pradesh, Punjab, Haryana and Delhi governments to respond on a petition on stubble burning and dust pollution that experts say contribute to the bad air quality.
A US embassy measure showed levels of poisonous airborne particles, known as PM 2.5, had reached 498 on Monday afternoon, compared with the upper limit of "good" quality air at 50, and government officials struggled to tackle a public health crisis that is well into its second week. (Updates)
The India Meteorological Department said rain was forecast over the next three days which could help clear the smog.
"Light rainfall is likely in states surrounding Delhi and in Delhi over the next three days, and this could result in a change in wind pattern in the region," Charan Singh, a scientist at IMD, told Reuters. "Smog will start to abate starting tomorrow (Tuesday)."
But Skymet, India's only private weather forecaster, said dense smog would continue over Delhi and the surrounding area for at least the next two days.
The Supreme Court is due to hear a petition filed by a New Delhi lawyer to direct government authorities to tackle the "intolerable and unbearable air pollution".
The Delhi government declared a public health emergency last week after pollution levels spiked, a yearly phenomenon blamed on a combination of illegal crop burning in northern states, vehicle exhaust and dust.
A new pollution-fighting mechanism, the Graded Response Action Plan, is in place in the city. Several steps have been announced -- ban on construction activities, hike in parking fees and ban on diesel generator sets -- but ground reports show that the Delhi government and local civic bodies have been sluggish on implementation.
The National Green Tribunal, an environment court, has directed the Delhi government and neighbouring states to stop farmers from burning crop residue. But the central and state governments have not been able to do so yet.
Over the weekend, authorities began using fire trucks to spray water in parts of the capital to keep the dust and other air particles down, but it has had little effect.
A senior central government official said there was little more that could be done.
"We can only do this much, and now we will have to wait for rains to clean the atmosphere," said Prashant Gargava, an official at the Central Pollution Control Board.
Gargava, who is in charge of monitoring air quality, said Delhi's air has been consistently in the "hazardous" zone, despite measures such as a halt to construction and increasing car parking charges four-fold to encourage people to use public transport.
'Monitoring situation'
Delhi minister Gopal Rai said on Monday scientists in the environment department are "constantly monitoring" the pollution level in the national capital where the air quality index has been "fluctuating" in the last 48 hours.
The minister, who holds several portfolios including development, told reporters they will meet officials of Pawan Hans in the evening to discuss the plan of the aerial sprinkling of water.
"Movement of trucks and construction works are under scrutiny, water is being sprinkled. We are continuously monitoring the situation," he said.
The Delhi government moved the green panel, seeking an amendment to its November 11 order on odd-even car rationing scheme.
On Saturday, the panel gave its nod to the scheme, which allows only odd- and even-numbered private vehicles on the roads on alternate days, from November 13 to 17.
However, it strongly rejected the government's plan to let two-wheelers and vehicles driven by women stay on the roads. Given these new conditions, the Delhi government decided to put the move on hold.
War of words
Haryana chief minister Manohar Lal Khattar on Monday asked Delhi chief minister Arvind Kejriwal about the steps he has taken to end stubble burning by farmers in areas near the national capital and that said he was open to meet him "anytime anywhere" to find a solution to the issue.
"I write this in response to your letter dated November 8. I believe no single person, organisation or government can improve the quality of air. Such collective problems require everyone to do their bit. And more importantly, a strong mechanism to enhance the outcome of such constructive steps," Khattar told Kejriwal in the letter dated November 10.
Kejriwal last week sought a meeting with his counterparts from Haryana and Punjab to discuss ways to manage the worsening air pollution in Delhi and the neighbouring states.
Quoting from Rabindranath Tagore's poem Where The Mind Is Without Fear, he said the bedrock of such a mechanism is a "mindset" where "words come out from the depth of truth".
"Unfortunately, your letter contains no hint of such a mindset. In fact, your reference to the helplessness of farmers in Punjab and Haryana in stubble burning betrays an inability to rise above short-term electoral interests," he said.
He cited "publicly available satellite imagery data" and said they showed a substantial reduction in stubble burning cases and fires from 2014 onwards in Haryana.
Khattar said he was "likely" to be in Delhi on November 13 and 14. "You may feel free to call me to fine tune a mutually convenient date, time and venue for the meeting."
Rai accused the Haryana government of "playing the blame game on stubble burning instead of taking action in his own state".
The minister also hit out at the Centre over the issue, referring to a report that the Union government allegedly "did not release funds" to states in north India, meant for farmers to dissuade them from stubble burning.
Asked about the allegation made by the Haryana government as to what the Aam Aadmi Party (AAP) government was doing for Delhi farmers, he said they are "doing more than we can."
"In Haryana and other states, the crop is cut from the top using technology, so it leaves a long stubble which needs burning for removal. In Delhi, our farmers cut crops close to the roots. And, have you seen any visual on TV or photos in newspapers of Delhi farmers resorting to stubble burning," he said.
"I was in Rohtak yesterday and the air in Haryana right now is more noxious. What is Haryana government doing?" he asked.
Congress vice-president Rahul Gandhi took a swipe at the Delhi government and the Centre for their inaction in tackling the rising air pollution.
"Seene me jalan, ankhon me tufaan sa kyun hai, iss sheher me har shaks pareshaan sa kyun hai (What is the cause of this burning sensation in the heart and storm in the eyes? Why is everyone in this city troubled?)." Gandhi tweeted quoting a song from the 1978 film Gaman.
Congress' Deepender Hooda said he has written to Prime Minister Narendra Modi and requested him to constitute a high-level committee comprising all chief ministers of northern states.
"Everyone should rise above political lines and sit together, present before nation a plan with budgetary provisions," ANI quoted him as saying.
Health hazards
The PM 2.5 airborne particles are about 30 times finer than a human hair. The particles can be inhaled deep into the lungs, causing respiratory diseases and other ailments. Hospitals have seen a surge of patients coming in with respiratory complaints, according to media reports.
"Every second we are damaging our lungs, but we cannot stop breathing," said Arvind Kumar, the head of the chest and lung surgery department at the Sir Ganga Ram hospital.
United Airlines said it had resumed flights from Newark, New Jersey, to New Delhi on Sunday, after suspending the service temporarily over concern about the bad air. Authorities decided to reopen schools on Monday after closing them temporarily for a few days last week, but the decision is likely to add more vehicles on the road.
Enforcement agencies said they were unable to impose a blanket ban on the movement of commercial trucks.
Aarti Menon, a teacher at a primary school in New Delhi, said her family was wearing a mask even when they were indoors during the weekend.
"Not everyone can afford an air purifier or air-conditioned car. We are all living in hell," said Menon, a mother of two teenage daughters.
Close Story