Delhi to conduct first tree census
Hindustan Times, New Delhi |
Vatsala Shrangi and Joydeep Thakur
Sep 26, 2018 11:45 AM IST
This would be the first-of-its-kind census in Delhi at a time when the question of felling trees for development projects has become a contentious issue and led to an intervention by the Supreme Court
A tree census is being planned in Delhi to count the trees native to the national capital and identify locations where exotic and invasive trees are growing in abundance, according to several senior officials from the city's forest development.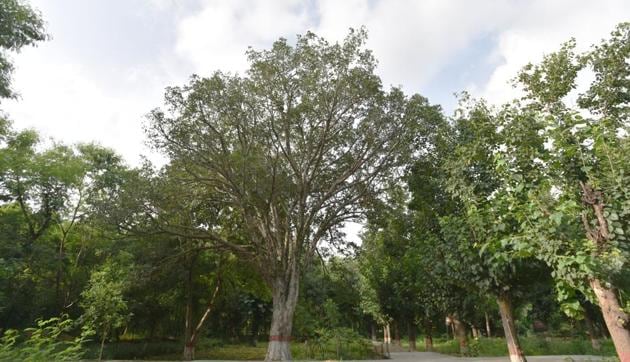 This would be the first-of-its-kind census in Delhi at a time when the question of felling trees for development projects has become a contentious issue and led to an intervention by the Supreme Court. The officials cited above said that the forest department is preparing a proposal for the Delhi cabinet to approve the plan and is in discussion with the Dehradun-based Forest Research Institute (FRI) to conduct the exercise.
"Plans are going on for conducting the first full-fledged tree census in Delhi. Two years ago, we had conducted a similar exercise but at a much smaller scale. Talks are being held with the FRI," said Delhi's environment and forest minister Imran Hussain.
The forest department has asked various land-owning agencies, including municipal corporations, to prepare an inventory of trees in the areas under their jurisdiction.
"The agencies have been asked to enumerate the trees in their respective areas by allotting specific number or a dedicated code to each tree along with providing details of species, girth, phenotype (how does a tree look) and location with geo-coordinates," said a second forest department official.
A third official said the proposal for the cabinet will be ready by the first week of October. "A number of modalities are being worked out including the number of agencies to be involved, the survey to be carried out in how many phases and the resources for the same. It is going to be a mammoth exercise," he said.
The official added that there is no exact data on the number of native trees and others that have been planted during the various afforestation and compensatory plantation programmes over the years.
The locations where invasive species such as 'vilayati kikar' trees grow will be mapped to help weed them out as they are harmful to the growth of native plants. These trees use up large amounts of water and don't allow other trees to thrive.
This is not the first time when such an exercise is being planned, but it seems to have greater political will this time around.
In 2011-2012, residents of Sarvodaya Enclave had carried a neighbourhood census to mark the number of trees, their species and individual health. "They (the Delhi government) have taken a gigantic first step to have trees counted. Now they must compile information on each tree, covering its number, location, type and girth. This should form the basis of all tree plantations, felling, pruning and compensatory afforestation measures," said Padmavati Dwivedi, who initiated the first neighbourhood census in Delhi in 2011-2012
In 2015, the Delhi government planned a tree census for the national Capital after the high court had observed that the city is not as green as official figures make it out to be. The exercise, however, did not take off.
In 2017, a few government agencies and civic bodies started a census and had counted around 18 million trees. But the exercise could not be completed and was left midway as some agencies could not submit their data.
An ecologist from the Delhi University CR Babu said the tree census could give an idea as to how prepared the city is when it comes to fighting pollution. "The girth and canopy would help us know how much carbon is trapped in these trees, how much dust they can trap and how much pollution they can mitigate."
Earlier this year, a move to cut down around 14,000 trees for redeveloping some central government colonies in south Delhi was put on hold after a public outcry, with a number of public interest litigations being filed in the Delhi high court and National Green Tribunal (NGT) against it.
locations where invasive species such as 'vilayati kikar' grow will be mapped to help weed them out