Delhiwale: A hidden bookmark in publishing hub of Ansari Road
Hindustan Times |
Mayank Austen Soofi
Jul 09, 2018 03:15 PM IST
A bookstore in central Delhi, well-known among the scholars, offers a treasure trove of selections on almost all aspects of Indian history and society.
If it were a book, it would be thick, dense, informative, wonderfully engaging, but wrapped in a most unattractive cover. Manohar bookstore in central Delhi is that sort of hidden gem. From outside, it is just a blank wall without even a window. But on entering you will discover a universe crammed with books on Indian history, politics and society.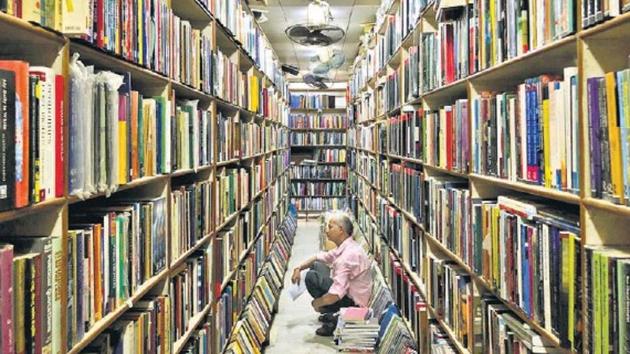 Bangalore-based historian Ramachandra Guha is a regular here.
Situated on Ansari Road, home to some of our leading book publishing companies, the shop's eclectic collection comprises titles that give a tantalising glimpse into a world right under our noses, yet unexplored by most of us. Sample these titles: The Pirates of Malabar, Shantih Shantih Shantih: TS Eliot and Indic Traditions, Mountain Flora of Greece, The Music of Hindostan, and Criminal Gods and Demon Devotees
The legendary scholar-cum-collector Simon Digby, who divided his time between Delhi and the UK, would come here routinely until his death in 2010. He would make two piles of books; one for immediate reading went to his apartment in Nizamuddin West, the other would be shipped to England, says owner Ajay Jain. The store is named after Mr Jain's grandfather.
Over-filled with thousands of volumes — both new and second hand — the wooden shelves divide the browsing area into neat rows. You can spend day after day here picking up books of all sorts.
When it first opened in 1967, the shop was known as Prabhu Book Service. It was the second branch of its namesake, the original Prabhu in Gurugram. Known for rare old books, that shop recently shut down. But this one in Ansari Road is chugging along, and is presumably doing sufficiently well for its owner to serve free chai to browsers who linger long.