Delhiwale: A shrine with a cemetery
A dargah resonates with tranquility, and its patron saint is linked to the city's past through his forefathers.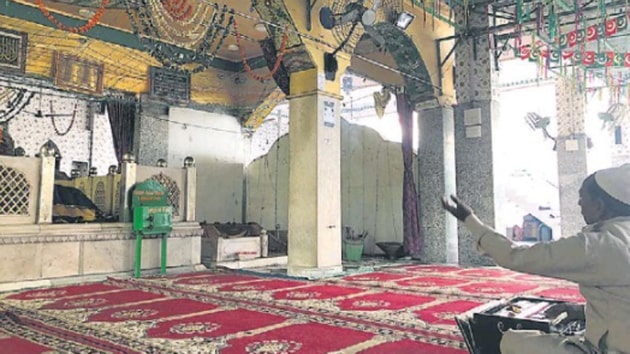 Published on Aug 07, 2018 02:31 PM IST
Hindustan Times |
Mayank Austen Soofi
Relief is when cramped, crowded, noisy, dust-filled streets suddenly open into an open, clean, quiet and airy yard.
Such is the thrill of the Sufi shrine standing just across the busy road from the Red Fort. Dedicated to 18th century saint Sheikh Kaleemullah Jahanabadi, the dargah draws people immersed in a life of Sufism. The Thursday night qawwalis, like so many Sufi shrines, also fascinate many.
The most idyllic time, however, to luxuriate in the shrine is during late afternoons when the courtyard is more or less empty. Right now, for instance, a lone qawwal is singing, the only other sound in the dargah is of his harmonium. A couple of women are sitting cross-legged. They say they dropped in for a while on their way back home in the Walled City after shopping in the adjacent bazar. Its stores are not only stocked with tracks suits and skull caps but also with parrots and pigeons.
The shrine's marble courtyard has a tinned roof that makes a patter-patter sound on rainy days. A steel almirah stands beside a tree whose trunk is painted green. The tree also serves as a stand for plastic caps—it is deemed respectful to cover one's head inside a dargah.
In her book on Delhi's Sufi shrines, author Sadia Dehlvi draws the arc of Kaleemullah's spirituality by beginning with an account of his early life when he fell in love with a Hindu boy. It is said that his grandfather was the chief architect of the Taj Mahal as well as of Delhi's Jama Masjid and Red Fort.
The shrine's most beautiful aspect is the little cemetery within. One of the graves is of Dr Syed Naseem Bukhari, whose tombstone describes him as "Physician to President of India". Another tomb has a wooden lamp hanging over it. The graveyard's wall has a blue of such fragile shade that you fear that it might evaporate under a strong sun. On stepping out of the shrine, you return to the chaos of the city.
Topics
Close Story