Haryana man wanted for 11 murders held from Lucknow
In April this year, Farmana and his two associates had taken a contract to kill a politician in Nagaland after the ongoing Lok Sabha elections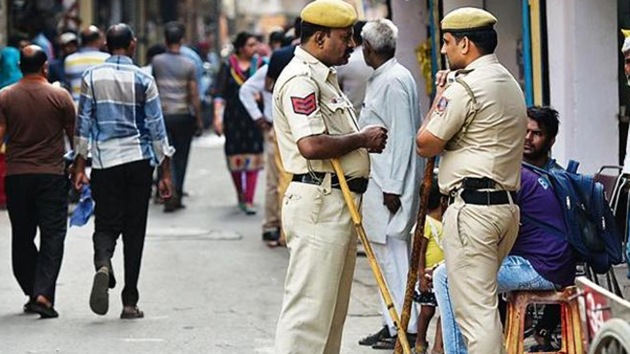 Published on May 18, 2019 05:12 AM IST
Hindustan Times, New Delhi | By Anvit Srivastava
Delhi Police on Friday claimed to have arrested Vijay Farmana, 29, was wanted in 11 cases of murder, one rape, an attempt to murder case and several cases of carjacking.
In April this year, Farmana and his two associates had taken a contract to kill a politician in Nagaland after the ongoing Lok Sabha elections, police said. His aides had been given a sum of ₹80 lakh and a Ford Endeavour car for the hit job, they said.
According to a police statement, Farmana is a graduate from Chhotu Ram Arya Jat College in Sonepat, Haryana. Out of the 11 murders in which Farmana was allegedly involved, three were triple murders committed in Haryana, while the rape was reported from Begampur, Delhi.
Additional commissioner of police (crime) Rajiv Ranjan said, Farmana also ran one of the "biggest syndicates of carjacking" and is suspected to be involved in at least 50 cases . The officer said they have found evidence of Farmana's role in seven cases, reported from NH8 and Kapashera, among others.
Ranjan said that on Wednesday, they received a tip-off that Farmana, who carries a cash reward of ₹50,000 for his arrest by Delhi police and two cash rewards of ₹50,000 and ₹10,000 by Haryana police, had been
spotted in Lucknow, UP.
"Our team reached Lucknow the same day and tracked Farmana. We further received inputs that he will come to meet one of his girlfriends at a shopping mall in Gomti Nagar and a team was deployed. Later, the team spotted Farmana sitting near a food outlet with a woman. As our team tried to nab him, he sensed the trap and tried to flee," ACP said.
Ranjan added that Farmana pulled out a pistol, but before he could pull the trigger, two officers overpowered him.
Deputy commissioner of police (crime) G Ram Gopal Naik said during interrogation, Farmana has said that in April this year, he and his associates Sharad Pandey and Kapil Chitania went to Nagaland and accepted a contract to kill a politician, but did not reveal who had paid for the hit job.
"Further, he disclosed that he was last arrested in 2007 in a case of attempt to murder. So far, he has accepted his involvement in 11 murders," Naik said.
In the first triple murder, Farmana and his four aides had kidnapped three students of Modern Institute of Technology (MIT), Rohtak—Rahul, Deepak and Ashish—and killed them, police said in a statement. "Their bodies were thrown in the Gang Nahar in Sonipat Sadar, Haryana. Farmana said he had killed the three boys because they had killed Farmana's brother's friend, Sanjay," the DCP said.
"He said that after committing a crime, he and his aides used to flee to other states to evade arrest. He said he had been changing his locations frequently since 2007 and therefore was never arrested," the officer said.
"He said that he was born and brought up in Farmana village, Haryana. His father is a retired Subedar from Indian Army and mother a home maker . He said he got into a gang rivalry when a man named Sandeep, from the neighbouring village, killed his brother Ashish's friend Sanjay. It was in retaliation that he along with his aides then kidnapped the three MIT students.The other two triple murders followed because of their rivalry with Sandeep," the police officer said.
Close Story