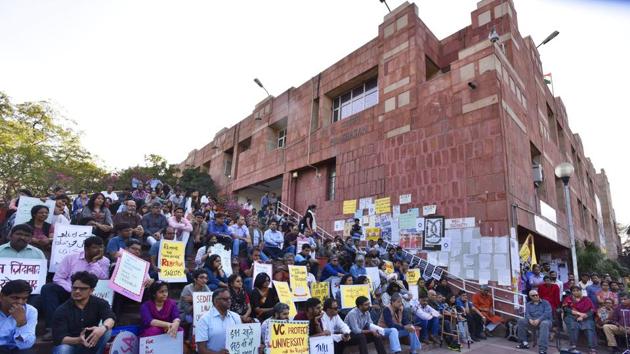 JNU makes it mandatory to fill MPhil, PhD forms in Hindi
Jawaharlal Nehru University has made it mandatory that the forms for MPhil and PhD are filled up both in English and Hindi. The JNU registrar said that since the varsity issues bilingual certificates, the rule would help in preventing spelling errors. Students accused the varsity of imposing Hindi on them.
UPDATED ON JUL 27, 2017 08:36 AM IST
A section of Jawaharlal Nehru University students have accused the administration of imposing Hindi on them after the university made it compulsory to fill the MPhil and PhD submission form in Hindi and English.
Till last year, students could fill the form in either of the languages.
"The students were going through their last hour of submission of M.Phil/Ph.D dissertation/thesis today. Students were severely harassed for filing an online tracking form which should contain title of the dissertation in Hindi," said Satarupa Chakraborty, JNU students' union (JNUSU) general secretary.
She said that on the verge of submission, those who neither speak Hindi nor have learnt to write Hindi, had to run from pillar to post to find someone who could write their dissertation title in Hindi.
"In a central university where students come from all across the country, how they can possibly write their names or dissertation titles in Hindi? And more importantly, why should they write these mandatorily in Hindi? Will our VC be able to write his name in Hindi or our PM in Tamil or Malayalam?," she said.
However, the university said the decision has been taken because since last year the students are being given bilingual certificates which contains their details in Hindi and English.
"The certificates given to students after they complete their course now carries their details in Hindi and English. That is why we have asked them to fill their details in MPhil and PhD submission form in Hindi and English. This will ensure there are no spelling mistakes," said JNU Registrar Pramod Kumar.
Kumar said the university started giving bilingual certificates to students from 2016. "If any student had any difficulty in writing the details in Hindi then they should come to us," he said.
Chakraborty said many students wrote their dissertation title in their local language script as a mark of protest.
Close