JNU students, teachers seek speedy probe into attack on Umar Khalid
Students said they may plan a protest to condemn the "cowardly attack" that Khalid managed to escape narrowly .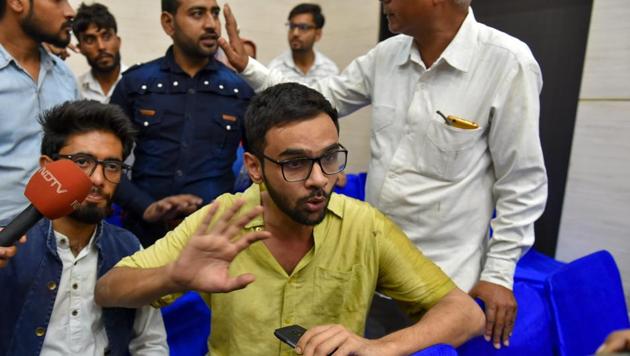 Updated on Aug 14, 2018 04:06 AM IST
Condemning the alleged attack on former Jawaharlal Nehru University (JNU) student Umar Khalid outside the Constitution Club in the national capital on Monday, students and teachers of the varsity called for a speedy police investigation into the incident.
JNU teachers' association (JNUTA) president Sona Minz said, "We condemn the attack on our student in unequivocal terms. For over a year, Delhi Police has been unable to find a single clue to lead us to Najeeb Ahmad, who disappeared from the campus (in October 2016). The police must expedite the investigation and arrest Umar Khalid's attacker immediately."
Calling it a "cowardly attack", students said they may plan a protest to condemn the attack but no decision regarding the matter has been taken it.
Student activist and former JNUSU vice president Shehla Rashid, meanwhile, tweeted, "Shocking and highly condemnable: a guy attacked Umar Khalid from behind and tried to shoot him in Delhi. This is the direct result of hatred whipped up by the hate media."
In 2016, Khalid's father had registered a complaint alleging that he had received a phone call, wherein the called had "threatened to kill Umar if he does not leave the country".
This incident had taken place when the Delhi Police were looking for Khalid and two other JNU students for their alleged role in the sedition case filed against them for allegedly raising "anti-national" slogans during an event at the campus.
Close Story