'Misplaced bravado': SC pulls up Delhi BJP chief Manoj Tiwari, closes contempt case over sealing drive
Updated on Nov 22, 2018 02:21 PM IST
An FIR also lodged against Tiwari by the East Delhi Municipal Corporation for allegedly breaking the seal of the premises in Gokalpuri area in north-east Delhi on September 16.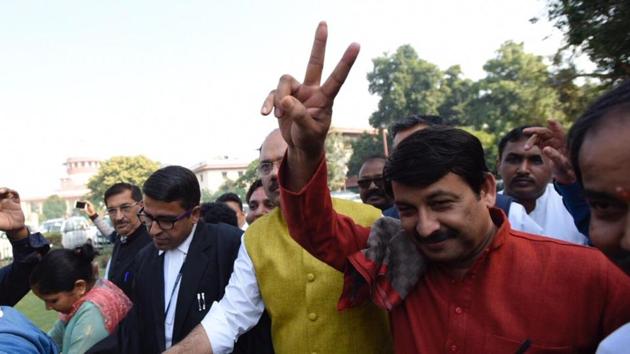 Delhi BJP chief Manoj Tiwari has been sharply rebuked by the Supreme Court for his much-publicised action of breaking into a house sealed by a court-mandated team in September. "It is a misplaced bravado including chest thumping and a misplaced political agenda," a bench headed by Justice Madan B Lokur said in its order on a contempt case against the lawmaker.
The court, however, did not order any action against him. Instead, the judges said it is up to the BJP to take action against him.
But Justice Lokur's order letting him off the hook in this case was scathing in his observations. The court said it was extremely pained the way he took law into his own hands.
Manoj Tiwari had broken the lock of a house sealed by the East Delhi Municipal Corporation in northeast Delhi's Gokulpur. The property had been sealed for an illegal dairy that was operating from the premises. Tiwari had then justified breaking the seal, questioning why only one house was sealed by officials if there were 1,000 other houses.
At one point, the court had also told him to come up with a list of 1,000 unauthorised properties and offered to give him the power to seal them too.
Tiwari had claimed that he didn't mean to disrespect the court but was "forced to do symbolic affirmative protest action against the illegal sealing action done by officials."
Senior counsel Vikas Singh, appearing for the BJP leader, had claimed before the bench that "monitoring committee want to terrorise the people of Delhi. This is only for publicity".
The top court had earlier ordered restoration of its 2006 monitoring committee to identify and seal unauthorised structures in Delhi.
The monitoring committee, comprising K J Rao, former advisor to the Election Commissioner, Bhure Lal, chairman of Environment Pollution (Prevention and Control) Authority, and Major General (Retd) Som Jhingan, was set up on March 24, 2006, by the top court.
Personalise your news feed. Follow trending topics