Mother kills newborn girl at hospital, police say she did not want a third daughter
Updated on Aug 04, 2018 08:03 PM IST
The woman, identified by the police as Reeta Devi, reportedly told interrogators she was "out of her senses" when she killed her newborn daughter, the police said.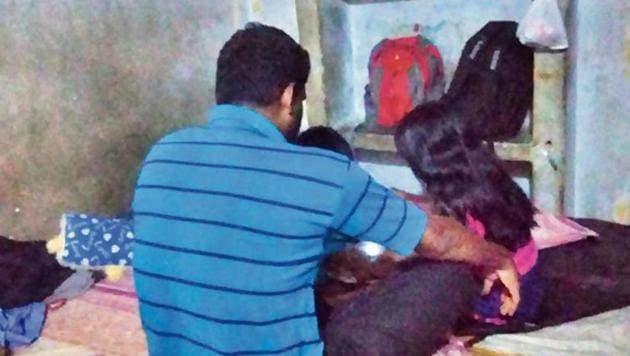 Hindustan Times, New Delhi |
Shiv Sunny
A 32-year-old woman allegedly smothered her newborn daughter at a west Delhi hospital on Sunday, the police said. Investigators said the woman told them she did not want a third daughter.
The woman, identified by the police as Reeta Devi, reportedly told interrogators she was "out of her senses" when she killed her newborn daughter, the police said.
Deputy commissioner of police (west) Vijay Kumar said Devi had allegedly told someone at the hospital that her husband did not want another daughter. "Before the delivery, Reeta Devi had told a helper at the hospital that her husband would frequently fight with her over the birth of their other two daughters. Because of that, Devi said she did not want a girl child again," said the DCP.
Once autopsy report confirmed the baby had been smothered, the police said a murder case was registered at Moti Bagh police station on Tuesday and Devi was arrested.
The DCP said investigators found no evidence of direct involvement of Devi's husband Asharfi Mahto. "Mahto does not appear to know about the murder plan," said the officer.
Mahto, who works as a helper with a private firm in Connaught Place, denied telling his wife he wanted a male child. "For a poor man like me, a son or a daughter does not matter," said Mahto at his dimly lit one-room set in west Delhi's Naraina village on Friday.
Psychiatrist Nimesh Desai, director at Institute of Human Behaviour and Allied Sciences, cautioned the act could be due to "postpartum depression" but added that the likeliest possibility was the police's theory.
Postpartum disorder symptoms range from mild mood swings to depression, anger, anxiety, guilt, insomnia and even hallucinations and delusions. Post-partum depression affects between 15.3% and 23% new mothers in India, according to the National Mental Health Survey 2015. Of them, around 16% – one in six new moms – continue to display symptoms six months after delivery.
A native of Chhapra in Bihar, Mahto lived with his wife and three children, two daughters — aged nine and eight — and a four-year-old son. Rita is a homemaker.
The police said Devi, in the ninth month of her pregnancy, was admitted to ESIC Hospital in Moti Nagar on Saturday afternoon after experiencing labour pain.
Mahto said he waited at the hospital for sometime before returning home to attend to their children. "A woman we knew agreed to stay back as a helper," said Mahto.
She gave birth to a healthy girl at 3.50am on Sunday, the police said. Police officials said there was nothing visibly unusual in Devi's behaviour initially. "Doctors checked the mother and daughter around 7am and found the baby in good health," DCP Kumar said.
Around 9am, Devi raised an alarm and told doctors that the baby was not moving. "Doctors found the baby dead. They found black marks around the child's nose. The marks were soon visible around her lips as well. Doctors suspected murder and alerted us," said the DCP.
The body was sent for post-mortem as police kept a watch over the woman. Once the autopsy report confirmed murder, police questioned Devi and her helper before concluding the motive behind the alleged crime. "There were occasions when the woman was alone in the ward. She used one such opportunity to smother and strangle her daughter," said the DCP.
Topics
Personalise your news feed. Follow trending topics