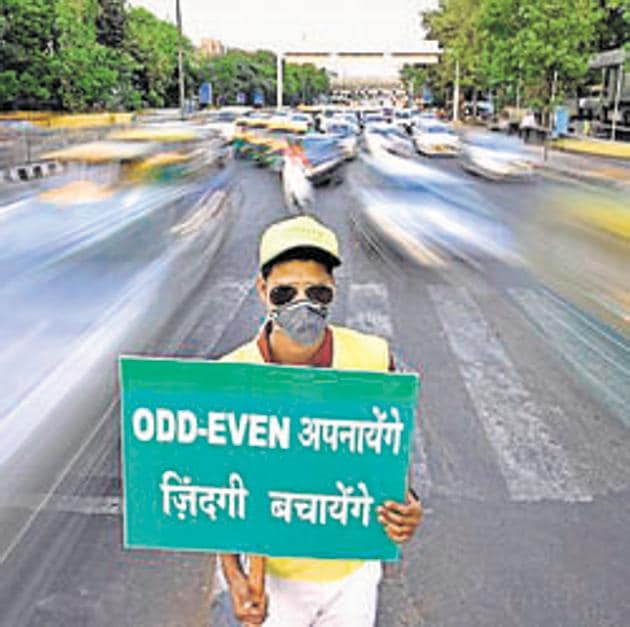 Need strong measures like Beijing, Paris for odd-even drive in Delhi, says SC panel
In Beijing, violation of odd-even rules can cost you your auto insurance for a year. In Paris, violators face heavy on-the-spot fines.
UPDATED ON DEC 28, 2017 11:58 AM IST
To make odd-even road rationing drive a success in the capital, there is need for stricter deterrents, a Supreme Court-appointed pollution panel told the Delhi government during a meeting with stakeholders last week.
"All the major towns of NCR, Gurgaon, Faridabad, Noida, Ghaziabad and Greater Noida, along with Delhi will have to implement odd-even, with minimal exemptions," said Bhure Lal, chairman of apex court-mandated Environment Pollution (Prevention and Control) Authority (EPCA).
EPCA member Sunita Narain, who was also present at the meeting, told officials that she will send a note on how Beijing and Paris implement the odd-even drive.
"In Beijing, it is a complete licence plate-based system with nearly no exemptions. If you are on the road when you are not supposed to be, then you do not get your insurance for the next year. Basically, it means you can't drive for the next year. Such strong deterrence is what we need here," said Narain. "Paris imposes on-the-spot fine, which is very high. You have to do something similar. We will send an advisory note. Chief secretary will have to work out the mechanism but with minimal exemptions," she added.
Metro Matters: Delhi can't grudge what it takes to breathe easy
At a recent meeting with authorities of Delhi-NCR, EPCA had said that whenever the air quality stays at "emergency" levels for 48 hours, tougher measures under the Graded Response Action Plan (GRAP) will kick in automatically. These include banning entry of trucks in the city, shutting down all construction activities and the odd-even drive.
The odd-even scheme was first implemented in the city in January and the second time in April last year. The scheme to fight the capital's toxic air was largely inspired by the Beijing model, which was introduced ahead of the Olympics in 2008.
Earlier this month, the National Green Tribunal (NGT) dismissed the Delhi government's plea for exemptions, should the odd-even road rationing measure needs to be rolled out when air quality breaches the severe level in the national capital.
"It cannot be disputed that emissions from two-wheelers are also a major source of pollution. The exemptions sought would defeat the entire purpose of improving the air quality of Delhi," a bench headed by NGT chairperson Justice Swantanter Kumar had said before rejecting the plea.
Best practices in odd-even
Beijing Even and Odd Licence Plate Ban Policy
When: Since 2008
Control method: Vehicles are allowed to drive on road according to last number of licence plate, so as per even or odd number drivers are restricted to use their vehicles on alternate days
Period: 24 hours
Exemptions:
1. Post office vehicles, police vehicles, ambulance, fire trucks, and engineering rescue vehicles
2. Buses, commercial shuttles, taxis, school buses, company commuter shuttles, and sightseeing buses
3. 'On duty' law enforcement and administrative vehicles with signs
4. Gardening and sanitation vehicles, road maintenance vehicles, and hearse
Punishment: Vehicles which disobey this rule are no longer able to get auto insurance in the following year
Impacts envisaged: This move expected to ease traffic with a 35% drop projected in the number of private vehicles on roads. It was estimated that three million trips will be undertaken every day on public transport once the rules come into place
Paris odd and even scheme
When: 2014
Control method: Vehicles are allowed to drive on road according to last number of licence plate. Motorcycles subject to the odd-even rule and public transport systems made free as long as the rule is in place
Exemption:
1. Electric and hybrid cards
2. Any vehicle carrying three people or more
Punishment: Drivers who defied the alternate-day ban faced on-the-spot fines of €22 (₹1,900) or €35 (₹2,660) if they paid within three days
Impact: Immediate impact was noticed that there was half the usual number of traffic jams
Learnings
1. Exemptions should be limited; extended only to essential and emergency vehicles
2. There should be deterrence against violators, which works for better compliance
3. The duration of the ban – odd or even – extends to 24 hours, which makes it more effective and does not allow people to take cars before 8am (as was the case in Delhi)
4. Availability of public transport is key as then the scheme is operational as a car-restraint measure. This must be improved as the scheme is made operational during high pollution days
5. It must be used as an emergency measure, only during peak pollution days and used to drive down pollution by taking large numbers of vehicles off the road.
Source: CSE
Close