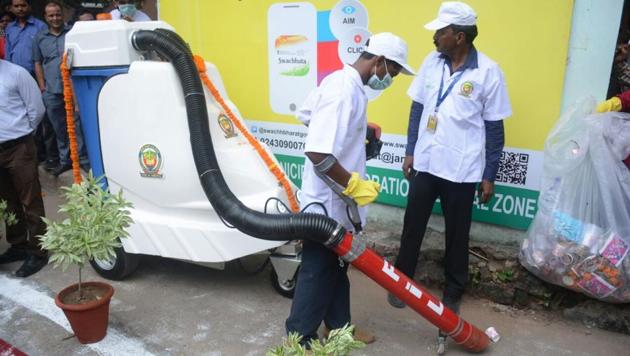 North Delhi civic body to buy 5 more mechanical sweepers to curb road dust
The proposal to procure five more mechanical sweepers was made by NDMC while presenting its budget for 2018-19.
UPDATED ON FEB 01, 2018 03:12 PM IST
Five more mechanical sweepers will be deployed on central Delhi roads in the next financial year.
The New Delhi Municipal Council, in its recent budget for the financial year 2018-19, has made the proposal. "In order to strengthen the road sanitation activities, I propose to procure five mechanical road sweepers at a cost of Rs 3 crore. In addition, it is proposed to provide comprehensive operation and maintenance for existing five mechanical road sweepers for a period of three years, so that they may be used in at least two shifts in a day. This will go a long way in curbing air pollution," NDMC chairman Naresh Kumar said in the budget speech on January 15.
According to an IIT-Kanpur study, which was carried out between 2012 and 2015, road dust is the biggest contributor to both PM10 (particulate matter) and PM2.5 emissions in Delhi. These particles which are less than 10 micrograms per cubic meters in diameter are deadlier as they go deep into the airways and lungs, and cause irreversible injury to the tissue, leading to chronic obstructive lung disease, emphysema and lung cancer.
A month back, Delhi lieutenant governor Anil Baijal had asked all three municipal commissioners to procure requisite mechanical sweepers, litter pickers, water sprinklers within a stipulated time.
Earlier, in a stock taking meeting on air pollution, the L-G was informed that currently only 15 per cent of road sweeping is mechanised. "Baijal directed all agencies that this should be increased to at least 40% in the next four months and as such, procurement and hiring processes will need to be expedited," a Delhi government official said.
Other agencies, too, have deployed these vacuum cleaning machines, which have circular brooms and vacuuming mechanism to make the roads dust free. Fifteen mechanical road sweepers are in operation in South corporation, four in East while North has four and officials are the process of getting four more.
However, in a city with 30,000km of roads, not even the full 1,250km of Public Works Department roads are getting the service of these machines, as the department has just two machines at its disposal and three more are yet to come.
Close