Ozone pollution rising in Delhi's air, shows data
Jul 18, 2017 11:51 PM IST
A recent analysis of real-time air quality data from monitoring locations of Delhi Pollution Control Committee for the summer months of 2016 and 2017 has revealed that ozone pollution has been worsening progressively
Apart from causing pulmonary disorders and respiratory infections, rising levels of Nitrogen Dioxide in Delhi's air can also worsen ozone pollution.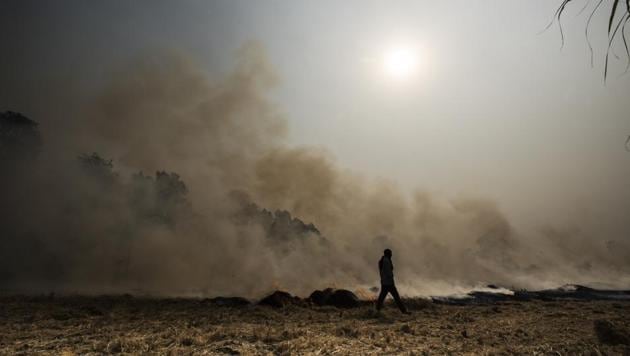 A recent analysis of real-time air quality data from monitoring locations of Delhi Pollution Control Committee for the summer months of 2016 and 2017 has revealed that ozone pollution has been worsening progressively with the onset of summer. The analysis was done by experts from the Centre for Science and Environment (CSE).
"Ground-level ozone is not directly emitted by any source. This is formed when oxides of nitrogen (NOX) and a range of volatile gases, primarily from vehicles and other sources, are exposed to each other in sunlight," said Anumita Roychowdhury, executive director (research and advocacy) CSE.
Ozone is an extremely harmful gas, just a few hours of exposure to it can trigger serious health problems. It is particularly harmful for outdoor activities. Ozone worsens symptoms of asthma, leads to lung function impairment and damages lung tissues. Chest pain, coughing, nausea, headaches and chest congestion are common symptoms.
"Near the earth's surface, ozone forms through the splitting of molecules by sunlight. Here NO2 provides the primary source of the oxygen atoms required for ozone formation. Sunlight splits nitrogen dioxide into nitric oxide and an oxygen atom. A single oxygen atom then combines with an oxygen molecule to produce ozone," said Gufran Beig, programme director of Safar (System of Air Quality and Weather Forecasting and Research), under the ministry of earth sciences.
The CSE analysis showed that residential areas of RK Puram and Punjabi Bagh have high ozone concentrations – much higher than the commercial and transport hub of Anand Vihar.
An earlier study by a US-based organisation revealed that early deaths due to ozone have jumped by 148% in India. Ozone aggravates respiratory problems, especially chronic obstructive pulmonary disease (COPD)," she said.
"Increased heat wave and rising summer temperatures are worsening this trend," said Roychowdhury, CSE's executive director (research and advocacy).
In April 2017, the daytime ozone levels increased by 134% from 90 to 211 microgramme per cubic metre. A similar trend was observed in May. When temperatures rose from 32°C on May 3 to 36°C on May 8, the daytime ozone concentration increased by 130% or 2.3 times, spiking from 100 to 230 microgramme per cubic metre.
But experts also said that NO2 after crossing a threshold is not able to produce any ozone.
"Ozone formation in the troposphere requires both oxides of Nitrogen and Volatile Organic Compounds. The efficiency of ozone formation rises and then falls as the ratio of nitrogen oxides (NOx) to volatile organic compounds (VOCs) increases. Higher NOX emissions result in less efficient ozone production," said Beig.