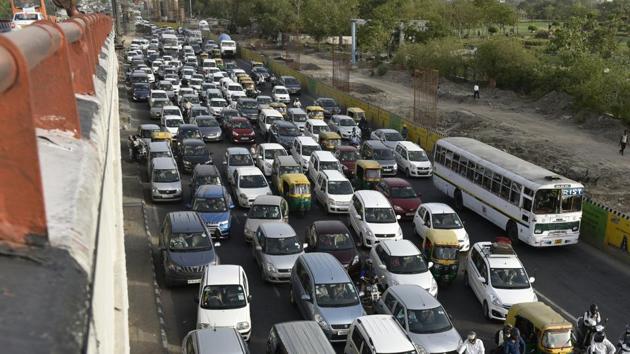 Smooth, fast drive on NH-24 ends at choke points on Ring Road
Fast-moving traffic hits a roadblock at the stretch near Sarai Kale Khan ISBT and Bhairon Marg crossing; officials say pedestrian bridge and underpass may bring relief for commuters.
Hindustan Times, New Delhi | By Risha Chitlangia and Ashish Mishra
UPDATED ON SEP 21, 2018 12:56 AM IST
Driving on the widened National Highway-24 (NH-24) has become a smooth and fast experience for commuters bound for south and central Delhi. But the joy stays only till the point you reach Ring Road.
After getting off NH-24, now part of Meerut Expressway, the fast-moving traffic hits a roadblock at two points — the stretch near the Inter State Bus Terminal (ISBT) at Sarai Kale Khan and the Bhairon Marg intersection.
The National Highways Authority of India (NHAI) has now written to the Delhi government's public works department to take measures to ensure seamless traffic movement between NH-24 and the rest of Delhi.
A senior NHAI official said south Delhi-bound traffic slows down due to continuous pedestrian movement at Sarai Kale Khan. This results in tailback till the NH-24 T-point near Millennium Indraprastha Park.
In a letter dated September 20, 2018, NHAI asked the Delhi PWD to take measures such as construction of a pedestrian bridge or improvement of the carriageway at Sarai Kale Khan to ease traffic movement.
R P Singh, project director, NHAI, said, "High-speed traffic from NH-24 slows down due to continuous pedestrian movement at the ISBT. The purpose of widening of the highway is defeated if high-speed vehicles coming from NH-24 get struck on Ring Road. We requested them to either construct a foot-over-bridge or make arrangements for smooth traffic movement."
Singh says NHAI had raised the issue of augmenting the capacity of Ring Road with Delhi PWD last year when NH-24 widening was on. "We had informed them that the existing Ring Road will not be able to take the increase in traffic volume, especially high-speed vehicles. We had asked them to augment the road infrastructure," said Singh.
Bhairon Marg intersection is another choke point on Ring Road. North and central Delhi-bound traffic gets stuck in jams at this intersection.
PWD officials said that with the removal of Millennium Park T-point signal, traffic coming freely from NH-24 and Sarai Kale Khan gets halted at Bhairon Marg. "Earlier traffic used to reach this point intermittently so the problem was not that grave. But now a large number of vehicles bunch at this signal," a senior PWD official said.
Delhi PWD's engineer-in-chief RK Agrawal said the department was working on solutions. But these are long-term projects.
"The remedies involve construction of an underpass at the Bhairon Marg crossing, which is part of Pragati Maidan's redevelopment project, and a half-flyover parallel to the existing one at Sarai Kale Khan. The department is working to decongest this stretch. Infrastructure projects take some time. We are also working on possible solutions to manage the pedestrian movement near Sarai Kale Khan," Agrawal said.
Another PWD official said the existing flyover at Sarai Kale Khan catered to traffic going towards NH-24 from the ISBT. Vehicles from the opposite direction had to take the road beneath it.
"A new flyover has been approved by UTTIPEC (Unified Traffic and Transportation Planning and Engineering Centre) but approval from DUAC (Delhi Urban Arts Commission) and estimate sanction for the project is still needed. We can start the work only after getting all approvals," another PWD official said.
Close