After ATMs, now banks in Delhi run out of cash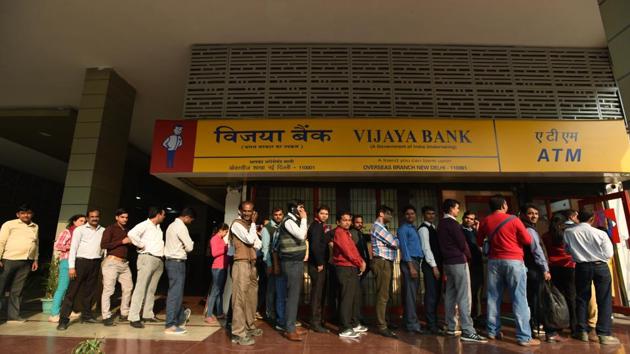 Updated on Nov 30, 2016 12:38 PM IST
It is 3 pm. The queue at a Corporation Bank branch in Mayur Vihar's Samachar Apartment market, which extended to at least 200 metres after the ban on ₹500 and ₹1,000, has almost vanished.
This is not because the cash crisis is over. Rather the bank ran out of cash. Over the past week, most banks in Delhi have complained about not getting enough currency from the chest.
Sources in the government-run State Bank of India said currency at the Janakpuri, Jhilmil and Okhla chests was fast dwindling. If RBI doesn't refill them in a day, they may dry up, he added.
Each currency chest caters to around 50 branches.
An official at a State Bank of India in Central Delhi said they require around ₹50 lakh a day at this time, but are getting only half the amount. Another official in a SBI branch in Central Delhi too said they were not getting cash as required. An Indian Bank branch in the walled city too got cash in the afternoon on Tuesday.
Sources said there were reports of cash getting exhausted at several branches of Bank of Baroda, Bank of Maharashtra, Canara Bank etc.
"If there is a problem at SBI which has the maximum number of chests, it means other banks' chests are worse," he added.
SBI has nine chests in the city, while other banks have two or three each.
PEOPLE BEAR THE BRUNT
Garment trader Karn Singh, who stood in a queue outside a Punjab National bank ATM in Mayur Vihar, said, "Cash arrived here at 3 pm and they will close the bank at 4:30 pm. Even if my number comes, they will not give me more than ₹4,000, despite the government's guideline to give ₹24,000."
Most banks have set their own cap on cash disbursal so that they can cater to a maximum number of customers. For instance, an SBI branch in central Delhi gave a maximum of ₹4,000 per customer, while a Punjab National Bank in east Delhi gave ₹8,000 and Indian Bank in Anand Vihar gave ₹6,000.
Singh said it has become his daily routine to stand in queue, get some cash and go about business. "My business is suffering due to the cash crunch," he said.
Read: Limited cash, limitless ideas: Delhiites' innovative ways to pay 'lifelines'
A Central Bank of India branch manager said he got ₹300,000 from the chest a couple of days ago after making repeated phone calls. "Had a customer asked ₹250,000 for a wedding, I would have been left with just ₹50,000, which will get over if five people withdraw money."
Life Corporation of India agent Surender Kumar said, "Most people are paying me in old currency saying they have no other option. I too have no option but to take it as it so that I get commission."
It has become an everyday routine for the Punjabi Bagh resident to hop around five or six branches of Corporation Bank to find one that gives cash. "Earlier, ATMs were not giving cash. Now, even banks are not giving cash. So where should we go?"
An SBI official, however, said they are in regular touch with the Reserve Bank of India and they will get the cash on Wednesday. "We have no such problems in our currency chest, but we have huge demands to meet as we are not just giving currency to people but also at petrol pumps and post offices. We are also thinking of transferring money from one currency chest to another so that banks get cash."
Residents are hoarding cash, a senior RBI official. "They need to spend money so that banks can get cash," he said.
Close Story
Personalise your news feed. Follow trending topics