Not just cars, restaurants with traditional tandoors serve pollution
Updated on May 04, 2016 12:48 PM IST
Delhi's air is dirty not just because of trucks, cars industries and dust-laden winds but also because of your neighbourhood tandoor.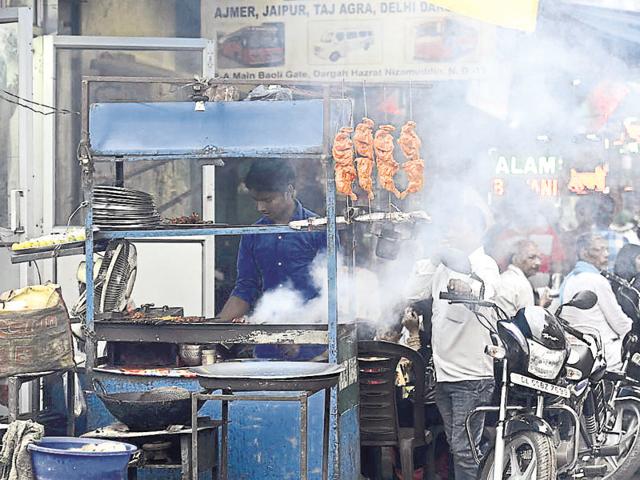 Delhi's air is dirty not just because of trucks, cars industries and dust-laden winds but also because of your neighbourhood tandoor.
Biomass burning – which includes burning leaves, agricultural refuse, firewood, and coal – accounts for nearly 12% of PM 2.5 production in summers and 26% in winters, says the Indian Institute of Technology-Kanpur study on air pollution and its sources in Delhi.
Though most of this is from obvious sources such as burning leaves and pollution from burning agricultural waste and firewood burning carried to Delhi from neighbouring states, the report also points to hotels and restaurants that use firewood and coal – mostly in tandoors.
Burning of wood and coal produces fly ash, a large part of which is contributed by thermal power plants and which is among the biggest sources of pollution in summers.
According to the report, out of 37,171 kg/day of PM 10 in the city, 3,493 kg/day is from hotels and restaurants. Of the 18,369 kg/day of PM 2.5, 1,758 kg/day is from the same source.
"There are approximately 9,000 hotels/restaurants in the city of Delhi, which use coal (mostly in tandoors). The PM emission in the form of fly ash from this source is large and contributes to air pollution. It is proposed that all restaurants of sitting capacity of more than 10 should not use coal and shift to electric or gas-based appliances," the report states.
A spatial study shows that most of these restaurants are concentrated in south, central and east Delhi.
The report used Delhi Pollution Control Committee data and government websites to get details of the hotels and restaurants.
"During the field survey it was observed that hotels, restaurants, etc use coal as fuel in tandoors. The average consumption of coal in tandoor based on survey was 30 kg/day. The total number of hotel and restaurant enterprise was 36,099 (as per Delhi Statistical Hand Book, 2014). We (IIT Kanpur scientists) assume that 25% of these enterprises use tandoor for food preparation. The common fuel other than tandoor is LPG. In most cases, it was found that there were no control devices installed at these facilities," says the report.
There is no rule that can be specifically applied to restaurants on the use of wood and coal as fuel. The National Green Tribunal (NGT) has banned open burning to curb air pollution but that is an order passed mostly keeping in mind the burning of agricultural remains in Delhi (negligible) and neighbouring states of Haryana, Punajb and Uttar Pradesh, and the practice of burning leaves and garbage in Delhi.
IIT Kanpur's action plan for the city includes, among several other things, stopping the use of coal and firewood in restaurants.
But it is not only restaurants that the report holds responsible. Households in Delhi – 10% of them – still use wood, crop residue, cow dung, and coal for cooking, according to the 2011 Census.
According to the report, 67% reduction in PM 10 (2,142 kg/day) and PM 2.5 (1,083 kg/day) emission from restaurants and domestic sector can be achieved by stopping the use of coal.
Close Story
Personalise your news feed. Follow trending topics