Republic Day celebrations: It may rain on our parade in Delhi
Updated on Jan 25, 2017 10:14 AM IST
Based on the expected weather conditions, the MeT department has forecast stronger winds, moderate to light showers on Republic Day. The temperature will be around 5-6 degrees Celsius.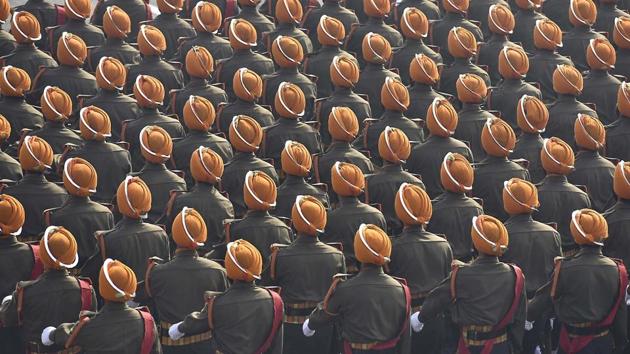 It might rain on Republic Day morning.
"The formation of induced cyclonic circulation over regions around the city, which may lead from moderate to light rains and thundershower, will have its effect from January 25 to January 27. We expect few spell of rains or showers from Wednesday evening," said a MeT department official.
Low wind speed in winters accounts for the typically poor air quality in the season. With weathermen predicting stronger winds and rain spells over the coming days, particulate matter will be dissipated and washed out, improving the air quality. However, it will get colder, as the minimum temperature is expected to drop to 5-6 degrees Celsius.
The minimum temperature on Tuesday settled at 10 degrees Celsius, two notches above the season's average, while the maximum temperature was recorded at 25.6 degrees, four notches above the normal. Early morning fog disrupted rail services with 30 north-bound trains running late and 14 being rescheduled.
Read: How Republic Day parade will be protected from chemical attack
The MeT office has predicted partly cloudy skies for Wednesday with the likelihood of light rains and thunderstorms in some areas.
"There will be shallow to moderate fog in the morning. Maximum and minimum temperatures are likely to hover around 21 and 14 degrees Celsius respectively," the weatherman said.
The Capital will also be able to breathe some clean air over the coming days from Wednesday evening because of the spell of rain which will improve the air quality.
Delhi recorded "very poor" Air Quality Index at 313 on Tuesday, according to Safar. This will improve by Wednesday and reach at 283, though still in "poor" category.
On Tuesday, the 24-hour rolling average of PM10 and PM2.5 was at 242µgm-3 and 152µgm-3 respectively, in moderate and very poor categories, respectively. This will take a dip on Wednesday and touch 218µgm-3 and 115µgm-3, respectively.
Read: Republic Day parade diversions may hit traffic in central Delhi
PM2.5 and PM10 are ultra-fine particles that are the dominant pollutants in Delhi. The acceptable levels of PM 2.5 and PM10 are 60μg/m3 and 100μg/m3, respectively.
According to the recently notified and enforced graded response system, when pollution levels are between "poor" and "moderate", the measures to be enforced are — strict ban on garbage burning, closing brick kilns, mechanised sweeping of roads and ban on fire-crackers, among others. When the pollution levels fall in very poor category, the measures to be implemented are — hiking parking fees by up to 4%, banning diesel generator sets and increasing frequency of metro trains.
Wind speed, another key factor in Delhi's air quality, is also expected to pick up over the coming days. "By Thursday, the wind speed will be around 15-20 kmph," the official said.