I am a go-getter, can go to any extent if issue is right: AAP MLA Somnath Bharti
Bharti first made headlines during his tenure as law minister in 2014 when he allegedly 'raided' a house in Khirki Extension in south Delhi to 'expose' a "drug and sex cartel".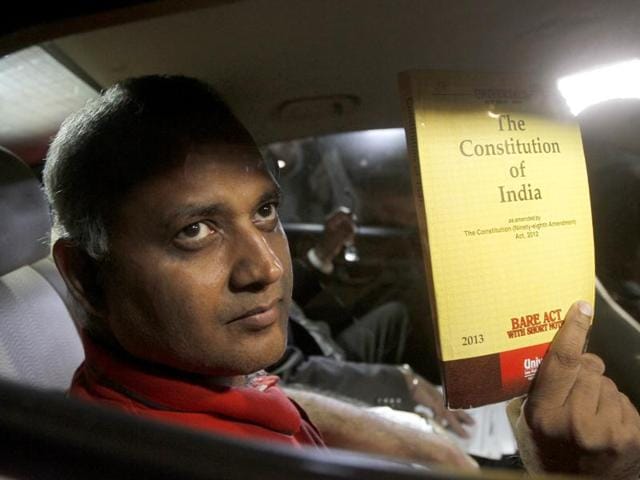 Published on Sep 12, 2016 04:19 PM IST
"Wherever common man will be troubled I will go. D allegation that residents dismantled the wall is a blatant lie. I will fight in court (sic)," tweeted Somnath Bharti, Aam Aadmi Party legislator, soon after he allegedly led a group of Gautam Nagar residents trying to demolish the rear wall of All India Institute of Medical Sciences (AIIMS) on September 9.
On Sunday, he and over 300 supporters were charged with rioting, damaging public property and misbehaving with security guards at the institute.
The Malviya Nagar MLA, who is also a founding member of AAP, is not new to controversy. Bharti first made headlines during his tenure as law minister in 2014 when he allegedly 'raided' a house in Khirki Extension in south Delhi at midnight to 'expose' a "drug and sex cartel".
News channels had aired the footage showing Bharti in a heated argument exchange of words with the top cops on the fateful night when he led the crowd of the locals in Khirki Extension.Even at that time, he said he was rooting out a problem that had bothered the locals for long.
Read: AIIMS officer accuses Somnath Bharti of trying to encroach on govt land
Thanks to his early morning walks and drawing room conversations with people of the constituency, he is considered as one of the most "accessible" AAP legislators. But now he is known more as someone often 'brushing the law the wrong way'. Three FIRs have been filed against him in less than three years.
Party insiders describe him as an "aggressive" personality. The MLA, however, is unapologetic. "I am a go-getter. And I can go to any extent if I am convinced that the issue is correct and it concerns people at large," Bharti told Hindustan Times on Monday.
Can the 'righteousness' of an issue grant him a license to take law in his own land? "I have not broken law in any of the public causes I have been involved with. But if law does not provide relief, we need to explore other options within the ambit of the law," said Bharti, adding that wrong allegations were levelled against him as "vested interests" suffered a blow because of his activism.
"The flourishing drug and flesh trade in Khirki was an open secret. The locals had asked me to take up the issue as the police had failed to rein in the menace. But the police booked me as it hit the police-politician nexus under whose patronage the illegal trade was thriving. It is history now," Bharti said.
About the controversy surrounding razing down the rear wall at AIIMS, Bharti said that come what may, the "Berlin wall will have to go as it's a public property and a roadblock in convenience of thousands of residents of Gautam Nagar and Masjid Moth".
Read: Fake degrees to rioting: List of AAP MLAs embroiled in legal trouble
"People have joined hands against it. I am just leading them. Over the last two years, we have explored all options to sort out the issue. It is a matter of record that AIIMS management did not turn up at any of the meetings attended by PWD, SDMC and police officials to discuss the problem. We will take the issue to its logical end," he added.
The AAP legislator, who is also a qualified Supreme Court practitoner, underlines he has "nothing else" to do than serving his electorate as the "Delhi Police has taken even his family away from him". He said it without referring to the domestic violence case filed against him by his wife Lipika. He was on the run after the matter came to light. Facing a predicament, Delhi chief minister Arvind Kejriwal had to tweet and ask Bharti to turn himself in. "Now he is becoming embarrassment for party n his family," he posted in a tweet last September.
Close Story
Personalise your news feed. Follow trending topics