Ola-Uber strike: Get ready for cab-less, chaotic Monday
Ola-Uber cab drivers are demanding better incentives and benefits. With app-based cabs off the roads, there might be chaos on Delhi roads with demand for other modes of transport such as autos, Delhi Metro and radio cabs, increasing.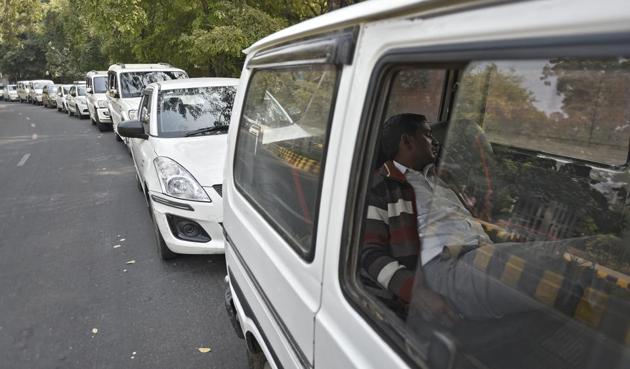 Updated on Feb 13, 2017 09:38 AM IST
Slashed incentives, increased commission rates, declining number of rides, long working hours and decreased earnings, among other issues, have Uber and Ola drivers on strike for the fourth day on Monday. Two members of the Sarvodaya Drivers Association Delhi (Ola and Uber), the union leading the protests, are on hunger strike.
With the strike expected to continue on Monday, commuters need to make alternatives plans like using public transport, autos and the traditional kaali peeli taxis.
Sunday saw virtually no Uber or Ola cabs running on Delhi streets, driving up demand and prices in the national capital. Drivers allege that they have been forced to strike because of the slashing of incentives, which has made making ends meet difficult.
Read: Ola-Uber strike Day 3: Commuters face the heat, aggregator opts for surge pricing
"Initially when we had joined, Uber had lured us saying that we could make upto 1.25 lakhs a month. Now we hardly make 25000 rupees a month. This is because the incentives have reduced. They also take a bigger commission now. It was 5% in 2012; now they take 25%," said SP Soni, the general secretary of the Sarvodaya Driver Association Delhi (Uber and Ola).
They have said that they feel a 10% commission rate is "fair and just," and anything more can prove detrimental to them. "All the expenses, such as fuel, maintenance, the cost of the car, etc., are on us. So the apps cannot take a quarter of our money," he said.
Drivers have also complained about the increase in the number of Ola and Uber cabs over the years, reducing their ride share. In 2014, Delhi transport officials claimed that there were 30,000 vehicles officially registered as Ola or Uber cabs but unofficially this figure ran closer to 70,000 cars.
This has increased to almost one to 1.5 lakh cars with around 45,000 registered cabs today, according to the officials. It has almost doubled in the three years.
"How many cars and drivers will they keep adding? They are adding almost 150 cars everyday. They now also have their own cars plying on the roads. With number of passengers not increasing much, the rides are getting divided among a larger group of people. The number of rides I get has been reduced in half," said Asad Khan, a driver on strike.
With the strike expected to continue on Monday, commuters will have to rely on autos, kaali peeli taxis, other radio taxis and public transport to commute.
"Though initially we had said we would strike on Monday as well, we have called it off after meeting with Satyendra Jain. The strike has been beneficial for auto drivers, as we have been getting more rides," said Sanjay Chawla, president of the Delhi Pradesh Tripaiya Chalak Sangh.
Read: Ola, Uber strike hits Delhi commuters, drivers say bigger protest on Monday
Members of the Delhi Taxi Tourist Transporters also claim that they have sorted their difference after meeting with the transport minister.
"We have been reassured by the minister that even Ola and Uber, will have to run on regular economy taxi rates of rupees 12 per km," said a statement sent by their president, Sanjay Samrat.
Auto and taxi drivers in the city have earlier expressed their grievances with the lower per kilometre rates, which allegedly has impacted their business. However the approximately two lakh autos and seven thousand kaali peeli taxis and other taxis will be plying on Monday.
Public transport including the approximately 4000 DTC buses that run on Delhi roads, or the metro which caters to almost 30 lakh people everyday are the otehr options available.
The Delhi Metro also said that if the need arises, they would increase the frequency of the trains. "There have been no significant change in metro traffic since the strike. However, we will keep an eye on the situation to ensure that the frequency of metros will be adequate," said Anuj Dayal, executive director of corporate communications at the DMRC.
Close Story