Parents of children under EWS category clueless about admission rules
The admission process under the Economically Weaker Section and disadvantaged group category was made online and centralised last year.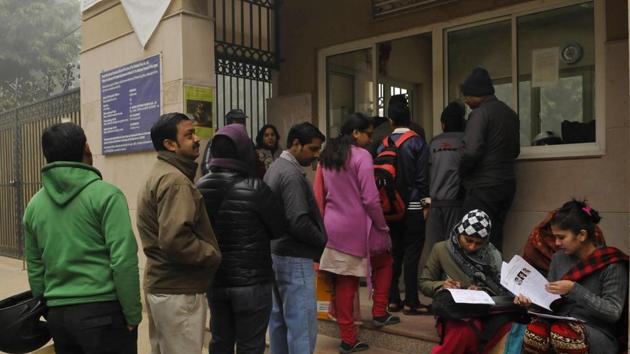 Updated on Jan 01, 2017 09:07 AM IST
Parents applying under the Economically Weaker Section and disadvantaged group (EWS/DG) group in this year's nursery admission are an apprehensive lot. With no announcement from the government, parents are clueless on the admission process and schedule.
The admission process under the Economically Weaker Section and disadvantaged group category was from last year put online and centralised. Private schools in the city reserve 25% seats for children belonging to this category and then through draw of lots, schools were allotted.
The online centralised process for EWS/DG category admission is operational in states like Maharashtra, Rajasthan and Andhra Pradesh already.
Read | Nursery admissions: Shifting goalposts, litigation trouble for parents in Delhi
Last year, the online application had caused a lot of problem for parents during the application process, as many did not have access to computers. There were also glitches with the online software, especially in finding schools in a location.
Finding the right location is important because distance is the main factor which determines admission under the EWS category.
With problems aplenty, the government had told the Delhi High Court in September last year that 11,000 nursery seats under the EWS category was lying vacant. There are around 28,000 seats in the category.
Three rounds of draw of lots were later conducted for filling the seats, which would have otherwise lapsed.
"This time we are making sure that all schools declare the total number of seats for the category, details of which will be available in the DOE website," said an official from the education department.
Parents are hopeful that the government will provide them with the means to apply online too.
"Going to a cyber café and filling up forms is very expensive. It will be great if any form of assistance is provided," said Salim Khan, a resident of Sangam Vihar, who hopes that his youngest son is admitted to some good private school.
Read | Nursery admissions: Parents in Delhi gear up for the great seat race
A government official said they will facilitate and set up assistance booth in various colonies.
However, activist working in the field of education say that the government first needs to make the schools disclose the number of seats for making the EWS admission process smooth.
"Once the total number of seats is declared, then there will be transparency in the admission for this category. Every year, the government asks the school to update it about the number of seats under this category. However, there is no 100% compliance," said Ambarish Rai, national convener of the Right to Education (RTE) forum.
Rai said that once this is done then government needs to act as a facilitator in helping fill application form.
"Government needs to organise camps in various areas and make people aware on how to secure admission. It will also be a good idea to have a EWS counselor in schools to provide assistance to the parents and children belonging to this category," said Rai.
Close Story