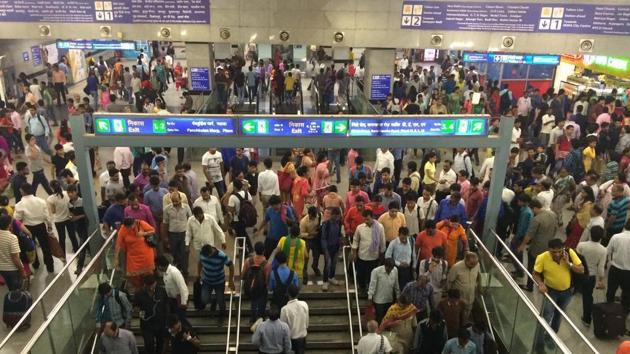 Porn clip at Rajiv Chowk: Delhi Metro begins probe, questions own staff
The Delhi Metro Rail Corporation is investigating the role of its employees in the April 9 porn clip fiasco at the Rajiv Chowk Metro station.
UPDATED ON APR 17, 2017 09:36 PM IST
The Delhi Metro Rail Corporation (DMRC) is questioning its staff at Rajiv Chowk Metro station to find the culprit behind the April 9 porn clip incident.
Over a week after a pornographic clip played on one of the LED screens at the busy Rajiv Chowk station, the DMRC on Monday said it has begun its probe. Investigating the case from all angles, the DMRC is not ruling out the involvement of its staff.
The DMRC, however, maintained that commuters could also be behind the incident. The corporation said three unidentified men may have played the clip on the big screen as the newly installed system was not secure.
"The inquiry is going on in full swing and the team includes officials from different departments. Staff members both contractual, those outsourced from a company, and DMRC's are being questioned now, especially those who were present at Rajiv Chowk that afternoon," a source said.
Preliminary DMRC investigation revealed that the incident took place around 5 pm on April 9. Following the incident, which left the DMRC red-faced, it has also issued strict guidelines to the contractors, who are handling electronic systems such as LED screens at stations.
These screens are used for advertisements and information dissemination.
While there is no penalty in the Delhi Metro's rulebook for this particular offence, the DMRC is now considering a specific penalty. "For this case, the Delhi Police are working closely with us. Once the culprits are caught, we will impose a penalty and hand them over to the police," an official said.
The LED TV system, where the porn clip played on for at least 10 minutes on April 9, had just been commissioned and its WiFi port was accessible. "Prima facie, as per CCTV footage, three men played the porn clip through their mobile (phone) on this TV at Rajiv Chowk station. Attempts are being made to identify these men. CCTV footage is under examination," a metro official said.
Delhi Police, meanwhile, said they have not received any complaint from the DMRC in the matter but are coordinating with the organisation in the case.
Close