Residents of Kathputli Colony in Delhi resist slum re-development through song, dance, magic
Published on Jan 26, 2017 11:32 PM IST
Over 100 residents from Kathputli Colony participated in the one-hour event that saw magicians, folk singers and puppeteers come together against Delhi Development Authority's move to demolish their slum.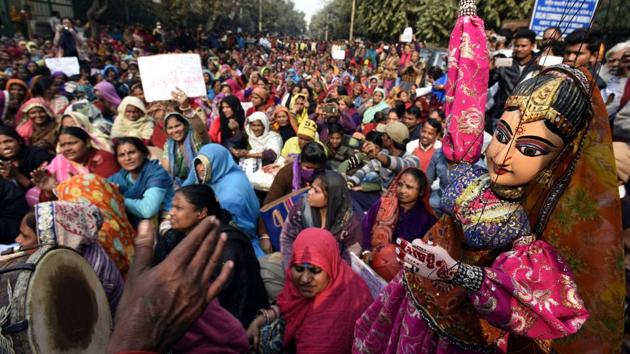 Residents of Kathputli Colony on Thursday organised an event called Republic of Resistance to protest against the in-situ redevelopment of the slum by the Delhi Development Authority (DDA).
The residents of the colony hosted a series of dance, folk songs, poetry and speeches under the Shadipur flyover in west Delhi on Thursday evening to protest against the government's move of trying to shift them out.
Read: DDA drawing new list of Delhi's Kathputli colony residents
On Thursday, despite heavy rains, artistes such as magicians, folk singers and puppeteers came together along with their families to express their resistance to the demolition drive through their arts.
Over 100 local residents participated in the one-hour event during which singers crooned folk songs, magicians entertained the crowd through their tricks and children read out poems.
Read: Puppets in the administration's hands
"The authorities should wait for the consent of the whole community before bulldozing the colony. There should be a transparent re-survey to include all the families," said Sunita (37), a resident of Kathputli Colony.
DDA officials, on the other hand, said every family living in colony will get a house under the in-situ rehabilitation plan.
Read: 'They're making our lives hell': Kathputli locals fear eviction as cops deployed
Kathputli Colony is famous for being home to the country's largest agglomeration of street performers. It is scheduled to be bulldozed extinction by the DDA as part of its Delhi Master Plan 2021. The colony, spreading across 5.2 hectares, will be razed to construct multi-storey buildings by a private builder.
According to an initial survey, a total of 2,800 families had to be shifted out of which over 1,150 families have already shifted to a transit camp in Anand Parbat.
Close Story
Personalise your news feed. Follow trending topics