From HT archives: Recounting the journey of MDH's brand ambassador
Updated on Dec 03, 2020 09:20 PM IST
Recession-proof MDH launched four new varieties of blended spices last year and continued to grow at 30%, while others struggled to survive, reports Shivani Singh.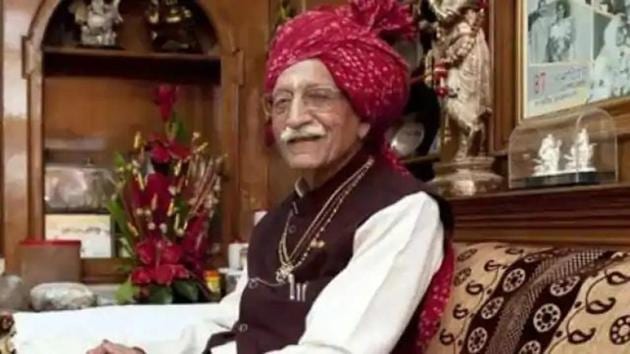 This is no film promotion set or a political party office. But the life-size cardboard cut-outs that greet you at 9/44, Kirti Nagar Industrial Area in west Delhi are of a man known to most spice-lovers in India. His company prefers him to an actor or a cricketer for its ad campaigns. And all his products carry his photo.
The moustached, bespectacled man in a red turban, white sherwani (long coat) and three strings of pearls is the face of his brand. He is 86 years old and is in no mood to slow down.
Read: Dharampal Gulati, iconic face of MDH spices, dies
Mahashaya Dharampal attends office all seven days, visits factories in Haryana twice a week, and still features in all his ads.
So it was not surprising that his company Mahashiyan Di Hatti (shop of the magnanimous) launched four new varieties of blended spices last year when most other businesses were struggling to stay afloat during the economic downturn.
Surviving adversities has been Dharampal's core competence.
"I sold mirrors, soap, cloth and hardware before I joined my father's spice business at Sialkot (now Pakistan). But after the Partition in 1947, our business went down to zilch. I re-established the company in Delhi with just Rs 9,700. No economic downturn can be as challenging as that situation was," says Dharampal.
Today, the Rs 300 crore (Rs 3 billion)-plus MDH is a market leader. It sells 45 varieties of blended and whole spices, exporting to more than 50 countries. The company has five factories across India, 1,500 employees, 1,000 distributors and over 800,000 retail dealers.
It has been a long journey for Dharampal. When he reached Delhi with very little money in September 1947, his first investment was in a tonga (horse-cart) he bought from Chandni Chowk.
"I thought it was a good way to get to know the city and earn a living," he says.
When he saved enough by ferrying passengers for two annas (1/16th of a rupee) per trip, Dharampal bought a kiosk in Karol Bagh in central Delhi in 1948. "Our brand of grounded chilli-powder (degi mirch) was popular in pre-partition Punjab. So I re-launched it as MDH in Delhi," he says.
From Karol Bagh, the business moved to Old Delhi's Khari Baoli in 1953. In 1954, Dharampal set up Roopak Stores in Karol Bagh.
"It was the first modern spice store in Delhi. I went to Bombay thrice to get ideas to plan the interiors," he recalls. Roopak Stores, now a landmark in its congested market, has been handed over to Dharampal's younger brother Sat Pal.
MDH's first innovation was to introduce packaged masala. The cardboard box pack launched in 1948 carried Dharampal's photograph and a brand promotion message.
"Our packaging has remained the same since 1948 with a few minor variations," says Rajinder Kumar, MDH's executive vice-president.
MDH was also one of the first few companies to launch an aggressive press ad campaign in 1948.
"We started placing ads in Pratap, a popular newspaper among Punjabi refugees," Dharampal recounts.
By 1984, when the company launched its first TV ad, MDH had already arrived and Dharampal confidently stepped in the frame.
"The ad featured actors Shafi Inamdar and Neena Gupta welcoming me to a wedding. I was a guest, actually, the chief guest," he says.
Today, Dharam Pal is the best brand ambassador for his company.
"People ask me why I don't get Shah Rukh Khan or Amitabh Bachchan to promote my masalas. Why should I ride on their success to promote my brand? I am the man behind the success of my product, so shouldn't I be promoting it?" he explains.
"Such an advertising approach works well with an older audience in a niche market. For MDH, it has been able to gain trust and brand recall. But if they want to catch a younger audience or diversify, they'll need a new approach," says Shubho Sengupta, national creative director at Interactive Avenues.
But with a recession-proof growth rate, MDH has no reason to rethink any of its strategies.
"Yes, prices of commodities have gone up and so has our input cost. So we negotiated more when procuring raw materials, squeezed profit margins and still continued to grow at 30 per cent," says Rajinder Kumar.
And there's a reason for that.
"A pack of Masala that costs Rs 35 is the most important and the least expensive component in a dish. Everything else from oil to vegetables or meat, is more expensive. So why would people cut down on our product?" he asks.
In fact, things are only getting better. Even the competition agrees.
"The commodity market is fast converting to branded business and even we registered a growth of 30 per cent last year. MDH, however, remains the biggest company in the spice trade," says Rajeev Kumar, managing director of Delhi-based DS Group that sells Catch spices.