Water scarcity, broken boundary walls hamper growth of saplings
Updated on Aug 02, 2016 07:35 PM IST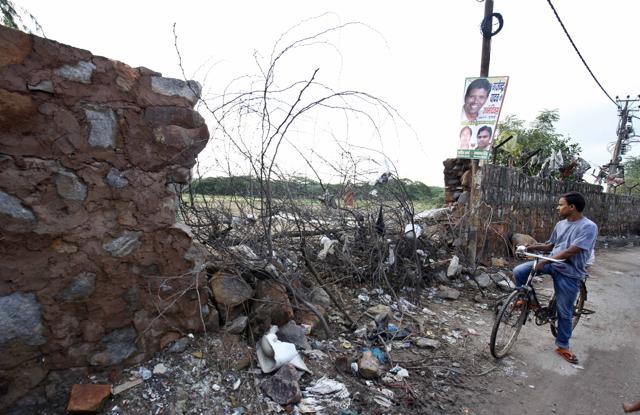 Each year the civic agencies plant a large number of trees and sapling but a significant number of these do not survive. Green activists say unscientific methods, lack of planning, absence of fences and water scarcity are the main reasons behind the low survival. Activist Padmavati Dwivedi pointed out that there had been cases in the past where saplings were planted with the poly bags still attached to the roots. "What do you think will be the chances of survival of a plant in such cases," she said.
One such instance where the South Delhi Municipal Corporation (SDMC) workers had planted saplings along with poly bags was reported in Kalkaji a few months ago. Rohit Kohli, a Kalkaji resident said, "Since, the plantation drive was not done scientifically and the tube well in the park was malfunctioning, about 90% of the saplings were destroyed."
Scarcity of water is another reason that has affected plantation drives in the past. Jahanpanah City Forest is spread across 435 acres and has a dozen tube wells in it. But only three of them work, said Navin Chopra, member of a group known as Friends of Jahanpanah City Forest which was formed to look into the problems at the forest.
Read: Civic agencies conduct mega plantation drive in South Delhi
Another city forest, Sanjay Van near Vasant Kunj, has also been facing the brunt of DDA's apathy. The broken boundary wall here gives easy access to pigs and other animals who damage the saplings. Lack of security guards is also a problem. "There are just three security guards to man the forest which is spread across 800 acres. Security needs to be increased here to prevent intrusion," said Vinod Rawat, founder of Working With Nature, a voluntary group assisting DDA in maintaining Sanjay Van. He said almost 10% of saplings get damaged due to the pigs and cattle roaming in the forest. For the past two years, Rawat has been requesting authorities to amp up security but he said the proposal is pending due to red-tapism.
Activists say that civic agencies must consider rainwater harvesting system to recharge the water level. Dwivedi said that strengthening the rainwater harvesting system and enhancing the ground water table is the best way to increase the survival ratio of plants. However, she added that as these steps will take time, the civic agencies should for now concentrate on planting native species as they are less dependent on water and its survival rate is higher. "The city's officials and people are obsessed with numbers. Rather than focusing on the number of plants, one should focus on planting native trees. They have slow growth initially but given the right conditions, the chances of their survival are much higher," Dwivedi said.
Environmentalist Vijay Dhasmana said plants like Dhak, Indian Salai and Phulai are good for garden areas and parks while the forest areas should get more trees like Kaedam, Palash, Khejri, Babul and Rohida.
Close Story
Personalise your news feed. Follow trending topics