Modi, Trump meet: Stand on terror, China keep friendship going; trade glitches persist | Opinion
Updated on Jun 27, 2017 04:27 PM IST
For Prime Minister Narendra Modi, the main accomplishment from the visit was to ensure that the India-US strategic partnership developed over the past two decades will survive an unpredictable White House resident that is Donald Trump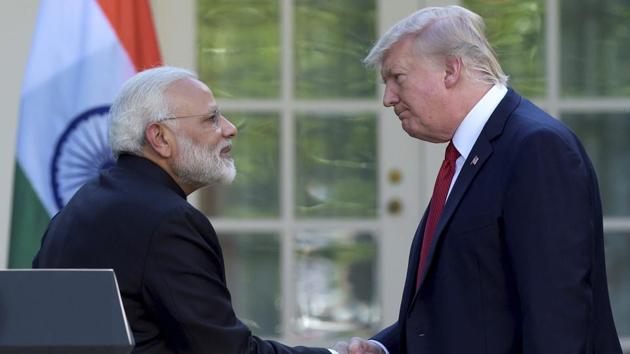 India First meets America First and agree Pakistan is third-rate. The most tangible consequence of Prime Minister Narendra Modi's maiden summit with the United States president, Donald Trump, has been the blacklisting of the Hizbul Mujahideen leader, Syed Salahuddin, and an agreement both countries should go after terrorist safe havens. But the main Indian accomplishment from the visit was to reassure itself that the India-US strategic partnership developed over the past two decades will survive an unpredictable White House resident. For the most part, that has been accomplished. The two governments easily found common ground on terrorism. But they also broadly agreed that they faced a common Chinese challenge on the maritime front.
What New Delhi could only paper over were the increased sources of friction in the economic sphere. Mr Trump, reflecting his curious mercantilist view on economics, expressed displeasure over India's small trade surplus with the US. He was on firmer ground when it came to criticising India's high barriers to manufactured goods. However, the two governments agreed to handle these and other trade and investment problems through dialogue rather than confrontation. Nonetheless, while the Trump administration will maintain continuity on the strategic side, India should expect little leeway on trade and immigration issues. This should not come as a surprise: Mr Trump has been consistent when it comes to fulfilling the baser economic and cultural concerns of his white working class support base. Mr Modi may see a faint echo of his own government's actions on the home front in this. No one expects him to reverse his government's moves to restrict the activities of US-based religious charities in India. His base requires that of him.
India's foreign policy establishment can take some reassurance from the fact that the bilateral relationship seems set to weather what was seen as its sternest test. The administrations of George W. Bush and Barack Obama were largely on the same page when it came to India. Mr Trump, both in terms of his personality and the manner of his election, was a wild card. But he has chosen an establishment foreign policy team and even at a personal level seems to see Mr Modi as a kindred political figure. India should not expect that everything will be smooth sailing after this. The US continues to be patchy in its response to China. It remains to be seen how much stomach it has for a renewed military commitment to Afghanistan. India will go its own way on climate change. These, however, are in the realm of normal policy differences and not evidence of Trumpist whimsy.
Close Story
Personalise your news feed. Follow trending topics