Net neutrality war: Fought by elite minority for ignorant majority
Jan 04, 2016 02:19 AM IST
If India's poor understood what they are being denied by India's Internet activists, they would hit the streets and bring the nation to a halt.
None of the six emojis that Facebook is currently testing may capture how Mark Zuckerberg feels about India these days. When I spoke to him on the phone a few days ago, the chairman of the social networking service seemed perplexed but hopeful.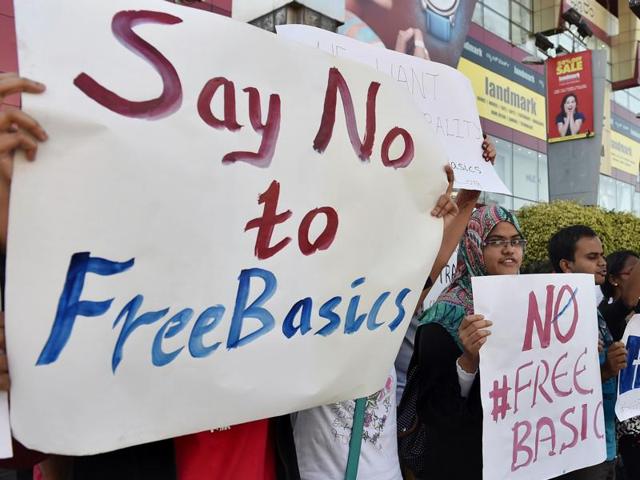 He is very close to giving free access to a portion of the Internet to a billion Indians who cannot afford to be online, but a group of activists from a fortunate minority that consumes most of India's bandwidth have unleashed a campaign, including on Facebook, to stop him from achieving this end. And, for the moment, they have won.
The activists are followers of a noble creed that is widely known as 'net neutrality', which deems that an Internet service provider should not give faster or cheaper access or any other form of preferential treatment to some services. This is important because it ensures that the private commercial arrangements of service providers do not influence how you use the Internet.
Facebook has created a platform called Free Basics that can give free access to a fraction of the Internet to anyone who has even a cheap feature phone. And, most Indians have at least such a phone. As Free Basics is an access to a fraction of the Internet and not the whole, the activists say that the platform violates the principle of net neutrality, hence must be blocked in India. According to Zuckerberg and those who view Free Basics as a humane intervention, some Internet is better than no Internet for the world's unconnected, of whom a billion are in India.
Read | This is how the Indian internet is battling Facebook's Free Basics
"The intensity," of the opposition to Free Basics, "is certainly unique to India," Zuckerberg told me, "Why it is surprising, apart from the fact that it happened at all, is that it happened in the country that has the biggest need to connect its people."
No doubt there are honourable reasons to preserve net-neutrality. But some activists are also investors or have been influenced by investors in start-ups and they have deep commercial interests in ensuring that service providers do not become very powerful. There is so much at stake for them that they are overreacting to Facebook.
So, as it goes with all of activism, there are the good, the pious and the self-serving, all trying to co-opt the general public who do not have the time to read beyond a type of modern journalism that goes: '10 Things You Need to Know About…'
Facebook does not charge any application to be on Free Basics, nor does it pay the service provider for carrying the free service. Also, it does not have an exclusive arrangement with Reliance. Unless a theologically rigid definition is applied, Free Basics is not in violation of net-neutrality. But the activists want its death because they place ideology or their own material fears over the transformation of the poor. So morally fragile is their stand against Free Basics that they cling on to any endorsement and flog it for months. As they did with a passing observation of Sir Tim Berners-Lee, popularly known as the inventor of the Web. He said, a few months ago, "Just say no" to any innovation that offers only a partial access to the Internet. He joins a long list of western scholars who are far removed from the realities of poor nations but make facile ideological pronouncements about their policies.
Read | Facebook is desperate about Free Basics: Here is why
If India's poor were denied their kerosene and food subsidies, and cheap railway tickets and electricity, they would hit the streets and bring the nation to a halt. If they fully understood what they are being denied by India's Internet activists, they would do the same.
Zuckerberg does not deny that he has business interests in connecting the world. "In the long term as more people get online that would undoubtedly increase our business opportunities." But, he said, "everybody" and not just Facebook would gain from that.
When Facebook first created the free Internet for the poor it was called internet.org, which was a system that let the corporation pick a handful of websites it would feature. The activists thought it gave too much power to Facebook, and Zuckerberg saw the wisdom in the criticism. So, in the new version, he ensured that the rules of entry would be made clear and broad enough for any developer to be a part of the system. He told me that the filter exists because giving full access to the Internet free of cost would be too expensive, hence impractical.
But the activists, "keep pushing this argument that it is still not an open platform. It definitely is an open platform."
In forcing Facebook to expand internet.org and make it more transparent, the activists had won a major victory. But what Zuckerberg did not realise was that activism never ends.
The activists say there are other ways of giving free Internet access to the poor. Ways that they did not bother to create in all these years. For instance, they say, a service provider can give away some free data to the poor every month. But then how would a service provider know who is poor? Historically, the Indian elite have benefited more from subsidies for the poor than the poor themselves. Also, are the activists comfortable with the thought that the free data can be used up in a day on pornography?
The flaw in Free Basics is not that it is corrupt but that it is too serious. Like many technological innovations for the poor, Free Basics presumes that what is important to the poor are the very grave aspects of life, like information and health. The fact is that the poor have best embraced a technology when it is fun. But then fun is expensive as it usually contains heavy data. Not necessarily, Zuckerberg said, "Connecting with friends can be fun," he said. At that point he sounded like the chairman of Facebook, which he is.
Read | AIB puts up another clip to throttle 'Save Free Basics' campaign
Manu Joseph is a journalist and the author of the novel, The Illicit Happiness of Other People
Twitter: @manujosephsan
The views expressed are personal