Potential allies in pole position
Parties will explore options to advance their post-poll interests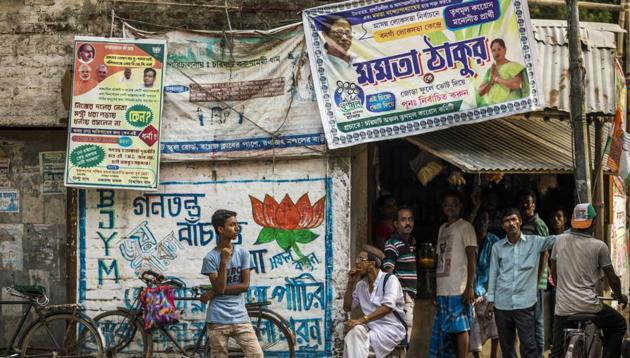 Updated on May 06, 2019 09:53 PM IST
Even as two phases of polling remain, all parties are now working on twin strategies: maximise gains in the remaining seats, but also begin looking beyond the polls. Most political observers believe that it will be difficult for any party to win an absolute majority on its own. The Bharatiya Janata Party (BJP) is all set to be the single largest force by some distance, although there is fervent speculation about the exact number of seats it will win. The party is well aware that if the existing National Democratic Alliance (NDA) falls short of a majority, it will need some additional friends. The Congress is hoping that it will be able to triple its seat share in the best case scenario. While it may have failed in stitching up alliances in some key states, it is aware that it will need all non BJP forces on the same page to muster up the numbers to keep Narendra Modi out. And regional forces — from the Samajwadi Party (SP)-Bahujan Samaj Party (BSP) grouping in Uttar Pradesh to Mamata Banerjee in West Bengal to K Chandrashekar Rao in Telangana — calculate that in case of a hung parliament, if the NDA is short, they can emerge as major swing players in determining the shape of the next government in Delhi.
All of this has meant that in the final fortnight of the elections, there are these seemingly paradoxical processes at play. On one hand, we are witnessing bitter and sharp campaigning against adversaries. On the other hand, there are also both public and private channels that have been opened up to reach out to prospective allies. Mr Modi's efforts to drive a wedge between Mayawati and Akhilesh Yadav is not only an effort to win over her Jatav base in eastern UP, but also to send a signal that the BJP is willing to engage with the BSP. The PM's praise for Odisha CM Naveen Patnaik for his work to minimise the losses by Cyclone Fani can be interpreted as a symbol of Centre-state cooperation, but in this political season, it could be seen as a signal that after a bitter campaign, all doors are open. The Congress may not have been able to sew up an alliance with SP-BSP, but its repeated assertions that the party has put up candidates in a manner which will help the alliance is a gesture of reconciliation. Mayawati, for her part, despite attacking the Congress relentlessly, categorically said that her voters will support Rahul Gandhi in Amethi. Meanwhile down south, Mr Rao — who already has an understanding with YSR Congress Party to bargain as a collective block in Delhi — has reached out to DMK leader, MK Stalin, Kerala CM and Communist Party of India (Marxist) leader, Pinarayi Vijayan, and is in touch with Karnataka CM, Janata Dal (Secular) leader, HD Kumaraswamy. Mr Stalin and Mr Kumaraswamy are a part of the United Progressive Alliance; and the CPI (M) is firmly in the anti-BJP camp.
All of this means that while parties are preparing for the outcome on May 23, they are also, already, looking beyond May 23. In the coming few weeks, all forces will slowly explore options to advance their political interests. Indian politics has often thrown up surprises and it is best not to rule out any permutation and combination.
Close Story
Personalise your news feed. Follow trending topics