Radhe Maa case: State officials must keep religion at bay
Their beliefs cannot be allowed to override the Indian State's secular credentials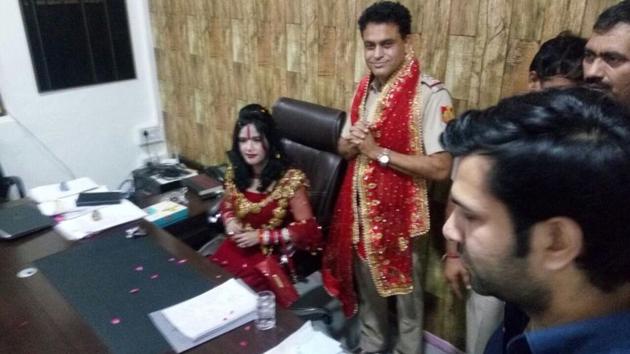 Published on Oct 08, 2017 04:49 PM IST
The 'Mission of Delhi Police' charter highlights the need for the force to discharge its duty with 'integrity, common sense and sound judgment' and to act 'without fear, or favour or prejudice'. The station house officer (SHO) and a few of his colleagues forgot these objectives when they hosted controversial 'godwoman' Radhe Maa at a police station in east Delhi on September 28. A photograph of the 'godwoman' — who has been accused in at least two cases, including one of dowry harassment — sitting on the SHO's chair, along with a video of policemen singing songs/ bhajans with her soon went viral on social media.
It is shocking and shameful that the pending criminal cases against Radhe Maa — recently, a Mumbai court rejected her application to drop her name from the dowry harassment case — did not deter the policemen from allowing her to sit on the SHO's chair.
The SHO and one officer have been suspended and four other have been sent to the district lines. The quantum
of punishment, once the departmental investigations are over, should be severe to ensure such incidents do not occur in future.
The incident has been embarrassing for the Delhi Police. The police must remember that citizens look up to them for upholding law and order. But if policemen are seen in such circumstances, it severely dents citizens' confidence in them.
But why blame only the police for such unacceptable acts? Most government offices have photographs of gods and goddesses on their walls though the Indian State claims that it is secular.
Religion and religious beliefs, which are an individual's personal choice, should have no place in public spaces — especially in a government offices, which are accessed by people of all communities and faiths.
Democracies must maintain a clear separation of the Church and State.
This is necessary to instil confidence in the citizenry that the State will discharge its duties without fear or favour.
Close Story