All you need to know about a career as child psychologist
Hindustan Times |
, New Delhi
Aanchal Bedi
Apr 08, 2015 02:37 PM IST
Tender therapy: A child ­psychologist should be patient, emotionally detached and have a way with children
Learning disorders, family problems, study-related ­anxiety, depression, aggression... the list is endless. Merely thinking about these problems makes one feel stressed, but for Dr Monalisa Palit, a senior ­clinical psychologist ­specialising in children and adolescents at Vidyasagar Institute of Mental Health, Neuro and Allied Sciences (VIMHANS), Delhi, helping people deal with these issues is both challenging and satisfying.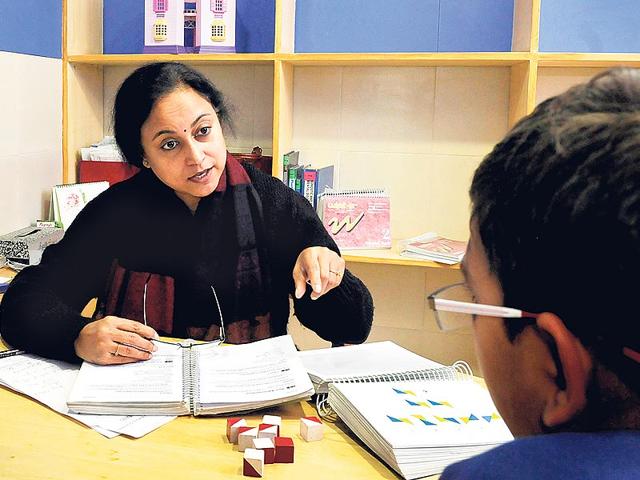 "Psychology has its own charm. I was always ­interested in studying psychology since school days. Peoples' ­behaviour, what they do, why they do it, what motivates them to act in a certain way has always intrigued me. Therefore, after finishing my graduation and ­masters in ­psychology from Delhi University, I went on to finish my PhD from Macquarie University Sydney, Australia," says Palit.
As to why she chose to specialise in child ­psychology, Palit says, "It is easier to counsel children than adults because they are more receptive, open to change and learn." Things, however, are not as easy as they seem. "As a psychologist, one is constantly dealing with problems faced by others.Therefore, one has to be detached emotionally, otherwise it can affect one's own life. Also, if you have unresolved personal issues, or are too judgemental, it can interfere in therapeutic sessions."

"At times it becomes very difficult to tell parents that their child has been diagnosed with autism or cognitive impairment or he/she is a special child. In such cases, interpersonal skills and the ability to win trust, establish rapport with the client comes in handy, " she adds.
Talking about the challenges, Palit says, "There are very few training institutes in India offering specialisation in child psychology. Various ­institutions such as National Institute of Public Cooperation and Child Development are making attempts to bridge this gap by offering diploma courses. Specialised hospitals like VIMHANS offer practical training and hands-on experience to students after they have completed their postgraduation. Some private clinics have also tied up with universities to offer short-term courses. However, uniformity in course structure and quality of training programmes need to be standardised to meet the growing demands in the current times."
All you need to know about a career as child psychologist
Lowdown
A child psychologist provides counselling on a variety of ­problems and disorders, such as relationship issues, depression due to family issues, exam-­related anxiety and learning ­difficulties. Counsellors often need to advise parents to address the root cause of a problem. Child psychologists work in hospitals. Some have an independent practice
Institutes
# University of Delhi; www.du.ac.in/du
# National Institute of Public Cooperation and Child Development, New Delhi; nipccd.nic.in
# Ambedkar University, New Delhi; www.aud.ac.in
# Indira Gandhi National Open University; www.ignou.ac.in
Eligibility
You may opt for any subject combination at the plus-­two level to be eligible for a ­bachelor's in psychology, but it's considered preferable to take science (physics, chemistry, biology) with psychology. Then you can go for master's in ­psychology or a PG diploma in guidance and counselling. For better career prospects, you may pursue an MPhil/PhD
Skills and traits
# Excellent communication skills, especially listening
# An open mind and objectivity to deal with children neutrally
# Sensitive and non-intrusive
# Ability to win trust to establish rapport with the client
# A strong sense of ethics and a positive outlook
Image building
Ability to win trust, ­establishing rapport with both the child and parents is ­essential
Money I take home
Rs. 50,000- Rs. 1.5 lakh a month
I love my job becouse..
It gives me immense satisfaction to see smiling faces
Expert gyan
Uniformity in course structure and quality of training programmes need to be standardised to meet the growing demands