Live
Maharashtra HSC Result 2022 Live: Result declared, direct link
Jun 08, 2022 02:15 PM IST
Maharashtra HSC Result 2022 Live: Maharashtra 12th result direct link is now available on board websites. Result has been declared.
Maharashtra HSC Result 2022 Live Updates: Maharashtra Class 12th result has been declared. MSBSHSE Class 12 result links are now available on board websites. This year, 94.22% students in Arts, Science and Commerce streams have passed the exam. Candidates who took the Class 12 board test in the state can view their results on the MSBSHSE websites mahresult.nic.in, hscresult.mkcl.org and hsc.mahresults.org.in. Candidates are advised to keep their admit card handy to check the result.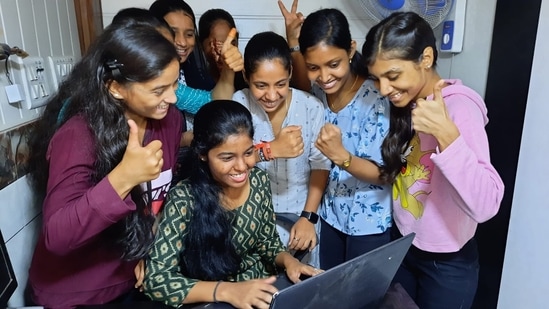 Maharashtra HSC result 2022 link
A total of 14,85,191 students had registered for the HSC exams of which 817,188 are male students and 6,68,003 are female students.
The Class 12 board examination in the state was conducted in offline mode from March 4 to April 7, 2022. The examination was conducted by following all COVID19 guidelines issued by the state and central government. For more related details candidates can check the official website of MSBSHSE.
Follow all the updates here:
Jun 08, 2022 02:15 PM IST

Maharashtra HSC 12th result 2022: Division-wise result

Pune: 93.61% (pass percentage)

Nagpur: 96.52%

Aurangabad: 94.97%

Mumbai: 90.91%

Kolhapur: 95.07%

Amravati: 96.34 %

Nashik: 95.03%

Latur: 95.25%

Konkan: 97.21%

Jun 08, 2022 01:55 PM IST

Maharashtra HSC 12th result 2022: When is SSC result?

Maharashtra HSC result has been announced but an official confirmation on SSC result 2022 date and time is awaited.

Jun 08, 2022 01:37 PM IST

Maharashtra Class 12th result 2022: List of websites

mahresult.nic.in
hscresult.mkcl.org
hsc.mahresults.org.in

Jun 08, 2022 01:23 PM IST

Maharashtra HSC 12th result 2022: Result highlights

Total candidates registered: 14,85,191

Male: 8,17,188

Female: 6,68,003

Passed: 13,56,604

Girls pass percentage: 95.35%

Boys: 93.29%

Overall: 94.22%.

Jun 08, 2022 01:17 PM IST

Maha HSC 12th result 2022: What is required to check Class 12 scores

Following details are required to check Maharashtra board exam results:

Board exam roll number or seat number
Mother's first name

Jun 08, 2022 01:14 PM IST

How to check Maharashtra HSC result 2022

Go to mahresults.nic.in or any other website mentioned here.
On the home page, click on the class 12 result link
Login with roll number and mother's first name
Check result

Jun 08, 2022 01:07 PM IST

Maharashtra HSC result 2022 direct link

Use the link below to check Maharashtra HSC result 2022:

Jun 08, 2022 01:02 PM IST

Maharashtra HSC result 2022: Link now available

Maharashtra HSC result 2022 direct link is now available on https://hscresult.mkcl.org/

Jun 08, 2022 12:59 PM IST

Maharashtra HSC 12th result 2022: Pass percentage

As many as 1356604 have passed in Maharashtra HSC result 2022. The pass percentage of girls is 95.35% and of girls, it is 93.29%. The overall pass percentage is 94.22%.

Jun 08, 2022 12:52 PM IST

Maharashtra HSC 12th result 2022: how to check

Go to mahresults.nic.in
Click on the HSC result link
Enter seat number, mother's name and submit
View result and take a printout

Jun 08, 2022 12:47 PM IST

Maharashtra HSC result 2022 official websites

List of official websites for Maharashtra HSC 12th result 2022:

mahresult.nic.in
hscresult.mkcl.org
hsc.mahresults.org.in.

Jun 08, 2022 12:39 PM IST

Maharashtra HSC 12th result 2022: Only 20 minutes remaining

Students need to wait for just 20 more minutes. They will be able to check Maharashtra HSC result 2022 after 1 pm.

Jun 08, 2022 12:25 PM IST

Maharashtra HSC result 2022: Keep these details ready

Keep your board exam seat number ready. You will need to use your seat number along with mother's name to check results.

Jun 08, 2022 12:14 PM IST

Maharashtra HSC result 2022 direct link

Direct link to check Maharashtra HSC 12th result 2022 will be available on mahresult.nic.in. hscresult.mkcl.org and hsc.mahresults.org.in after 1 pm.

Jun 08, 2022 12:13 PM IST

Maharashtra HSC result 2022: 10,047 students get 90% or above

In Maharashtra HSC result 2022, as many as 10,047 students have got 90% or more marks.

Jun 08, 2022 12:04 PM IST

Maharashtra HSC results 2022: No toppers' list

The Maharashtra board will not release names of HSC exam toppers.

Jun 08, 2022 11:55 AM IST

Maharashtra HSC Class 12th results declared

MSBSHSE has declared Maharashtra HSC 12th result 2022 but the direct link for mark sheets will be available at or after 1 pm. Follow latest updates here.

Jun 08, 2022 11:53 AM IST

Maharashtra HSC results 2022: Girls do better

A total of 1356604 have passed in Maharashtra HSC result 2022. The pass percentage of girls is 95.35% and of girls, it is 93.29%.

Jun 08, 2022 11:39 AM IST

Maharashtra HSC Class 12th result 2022: Number of students

As many as 1439731 students appeared for HSC exam in the state this year of whom 1356604 have cleared the exam.

Jun 08, 2022 11:27 AM IST

Maharashtra HSC result 2022: Division-wise pass percentage

Pune: 93.61%

Nagpur: 96.52%

Aurangabad: 94.97%

Mumbai: 90.91%

Kolhapur: 95.07%

Amravati: 96.34 %

Nashik: 95.03%

Latur: 95.25%

Konkan: 97.21%

Jun 08, 2022 11:24 AM IST

Maharashtra HSC result 2022: Konkan division has 97.21% pass percentage

Konkan division has once again recorded the best pass percentage – 97.21% – in Maharashtra HSC result 2022.

Jun 08, 2022 11:22 AM IST

Maharashtra HSC result 2022: Pass percentage drops

In Maharashtra HSC result 2022, 94.22% students have passed and the pass percentage has come down by 5.41 percentage points since last year. Notably, there were no board exams in Maharashtra last year.

Jun 08, 2022 11:16 AM IST

Maharashtra HSC result 2022: 94.22% students pass

This year, 94.22% students have passed the Maharashtra HSC exam 2022.

Jun 08, 2022 11:09 AM IST

Maharashtra HSC result 2022: Login credentials for MSBSHSE 12th results

To check Maharashtra Class 12th result on mahresult.nic.in. hscresult.mkcl.org and hsc.mahresults.org.in, students will have to use board exam seat number and mother's name.

Jun 08, 2022 10:53 AM IST

Maharashtra HSC 12th result 2022 time

Around 2 hours remaining for Maharashtra HSC Class 12th results. Students will get their e-mark sheets on mahresult.nic.in. hscresult.mkcl.org and hsc.mahresults.org.in at 1 pm.

Jun 08, 2022 10:43 AM IST

Maharashtra HSC result 2022: Over 14 lakh students wait

This year, as many as 14,85,191 students have registered for Maharashtra HSC exams. The number is slightly higher than last year's when 13,19,754 had registered for Maharashtra 12th exams.

Jun 08, 2022 10:31 AM IST

Maharashtra Class 12th result 2022: Stream-wise results last year

Commerce pass percentage: 99.91%

Vocational: 98.80%

Overall (Science, Arts, Commerce, Vocational): 99.63%

Jun 08, 2022 10:17 AM IST

Maharashtra HSC result 2022: Some exams were postponed

Maharashtra HSC exams for second and third language subjects, earlier scheduled for March 5 and 7, were postponed till April 5 and 7 as the truck carrying these question papers caught fire. These papers were meant for Pune division students.

Jun 08, 2022 09:57 AM IST

Maharashtra HSC 12th result 2022: Where can students check results

As informed by Maharashtra School Education Minister Varsha Gaikwad, websites to check HSC or Class 12th results include mahresult.nic.in. hscresult.mkcl.org, hsc.mahresults.org.in and some other unofficial sites.

Jun 08, 2022 09:45 AM IST

Maharashtra HSC result 2022: What wil be mentioned on MSBSHSE scorecards

In Maharashtra 12th result scorecards, candidates' name, address, school details, marks secured in each subject, total marks, pass/faill status, etc will be mentioned.

Jun 08, 2022 09:24 AM IST

Maharashtra HSC result 2022: When is SSC result?

Maharashtra HSC students will get their results on June 8 but there is no official update on SSC result date and time. Usually, the board announces both Maharashtra Class 10 and Class 12 results within a few days.

Jun 08, 2022 08:59 AM IST

Maha HSC results 2022 on mahresults.nic.in

mahresults.nic.in, the official website for Maharashtra examination results, has been updated ahead of HSC results. A notification on the website reads results will be declared "on June 8th, 2022 at 13:00 Hrs."

Jun 08, 2022 08:46 AM IST

Maharashtra HSC result 2022: Arts, Science, Commerce results together

MSBSHSE announces Maharashtra HSC results for Science, Arts and Commerce streams together.

Jun 08, 2022 08:31 AM IST

Maharashtra HSC result 2022 date and time

HSC result 2022 Maharashtra date: June 8

Maharashtra HSC results time: 1 pm.

Jun 08, 2022 08:14 AM IST

Maharashtra HSC result 2022: Toppers' list to be released?

This year, MSBSHSE may release the HSC exam toppers' list as exams were conducted in the conventional manner. Last year, the toppers' list was not released as there was no board exams and results were prepared based on an alternative assessment scheme.

Jun 08, 2022 08:01 AM IST

Maharashtra HSC result 2022: 99.63% passed last year

The Maharashtra board recorded a 99.63% pass percentage in HSC results last year.

Jun 08, 2022 07:47 AM IST

Maharashtra HSC 12th result 2022: Full marks to students for this question

The Maharashtra board will award full marks (1) for one question asked in the HSC English paper as it was printed without the necessary guidelines.

Jun 08, 2022 07:36 AM IST

Maharashtra Class 12th result 2022: Exam held after a year

This year MSBSHSE was finally able to conduct board exams in offline mode. Last year, these exams were cancelled in view of the COVID-19 pandemic.

Jun 08, 2022 07:21 AM IST

Maharashtra HSC result 2022: Where to check MSBSHSE Class 12th result 2022

As informed by School Education Minister Varsha Gaikwad, these are the websites to check Maharashtra HSC results 2022:

mahresult.nic.in

hscresult.mkcl.org

hsc.mahresults.org.in

and some other unofficial sites.

Jun 08, 2022 06:44 AM IST

HSC results 2022 Maharashtra: What Varsha Gaikwad said

To announce Maharashtra HSC result 2022 date and time, School Education Minister Varsha Gaikwad posted a video message on her Twitter and wrote, "Results for HSC exams held in March-April 2022 by the Maharashtra State Board of Secondary and Higher Secondary Education will be announced online on 8th June at 1 pm."

Jun 08, 2022 06:40 AM IST

HSC result 2022 Maharashtra board: Over 14 lakh candidates wait

This year, a total of 14,85,191 candidates had registered themselves for HSC Class 12 final examinations in Maharashtra.

Jun 08, 2022 06:35 AM IST

Maharashtra HSC result 2022: List of websites to check scores

Official websites for Maharashtra board HSC result 2022 are:

mahresults.nic.in
mahahsscboard.in
msbshse.co.in

Jun 08, 2022 06:26 AM IST

Maharashtra HSC result 2022 time

As per the latest updates, Maharashtra HSC result 2022 will be announced at 1 pm on June 8.

Jun 08, 2022 06:23 AM IST

Maharashtra HSC results 2022 today

Maharashtra State Board of Secondary and Higher Secondary Education (MSBSHSE) will declare HSC or Class 12 final examination result on June 8.

Jun 07, 2022 07:40 PM IST

HSC Maharashtra results: Last year 14 lakh students registerd for the HSC exam

Last year, 14 lakh students have enrolled for Maharashtra Class 12 examinations.

Jun 07, 2022 07:39 PM IST

HSC Maharashtra result : Last year the result was announced on August 2

School Education Minister Varsha Gaikwad declared the Maharashtra HSC Result 2021 Date on August 2, 2021. Candidates received the results at 4 p.m. on August 3, 2021.

Jun 07, 2022 06:51 PM IST

HSC Maharashtra result: Websites to keep eye on

http://mahresult.nic.in

http://hscresult.mkcl.org

https://hsc.mahresults.org.in

Jun 07, 2022 06:48 PM IST

HSC results tomorrow: How to check

Go to the official website at mahsscboard.in.

Click the link for the HSC, 12th exam result 2022.

Enter your log-in information

The results of the HSC test 2022 will be displayed on the screen.

Download the HSC exam results and print it for future reference.

Jun 07, 2022 06:26 PM IST

HSC exam result tomorrow: Maharashtra class 12th result

Around 15 lakh students are awaiting their Maharashtra HSC result. Maharashtra class 12th result will be announced tomorrow.

Story Saved