Employability.life launches new project to give students professional experience
Published on Jan 18, 2023 08:15 PM IST
Innovative education provider Employability.life launched its new experiential microcredentials (XPMCs).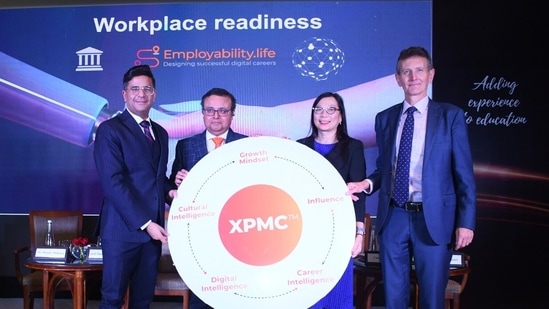 Innovative education provider Employability.life on Wednesday launched its new experiential microcredentials (XPMCs), which aims to give students "direct experience of professional work environments in bite-size chunks".
In XPMCs, learners will receive support from project managers and professional mentoring to identify personal strengths and develop five key digital economy capabilities: Growth mindset, Career intelligence, Digital intelligence, Cultural intelligence and Influence, as per an official statement.
"The strategic partner for the XPMC product is Federation University Australia, and Employability.life is delighted to launch the project in the presence of their Vice Chancellor and President, Professor Duncan Bentley, and Carolyn Chong, Deputy Vice Chancellor (Global & Engagement), Federation University Australia," Employability.life said in a press statement.
Through this partnership, Federation University Australia will accredit XPMCs and associated teacher training programmes. In addition, eligible students will get opportunities to visit and work on projects at the IBM emerging technologies hub located at Federation's campus in Ballarat, Victoria, they added.
Professor Duncan Bentley, Vice-Chancellor and President of Federation University Australia said, "In a first for Australia, the globally recognised co-operative education model will be embedded across all Federation programs from 2025. Therefore, we are delighted to enter into this strategic partnership with Employability.life supporting their mission to build a global co-op ecosystem, which will bring educators, employers, and learners together to help build the digitally-savvy talent that the global economy needs. We have a longstanding relationship with India and we look forward to playing our part in realising its vision to be the 'skills capital' of the world.