How to get Goa Assembly elections 2022 vote counting LIVE updates on Election Commission of India website
Mar 10, 2022 06:42 AM IST
ECI Result 2022 Live, Goa Election Latest Counting Updates: Go to results.eci.gov.in to find out live counting details of the Election Commission of India.
With major exit polls having predicted a hung assembly in Goa, all eyes are now on the counting of the votes, while BJP is is talks with the Maharashtrawadi Gomantak Party (MGP) for a post-poll alliance.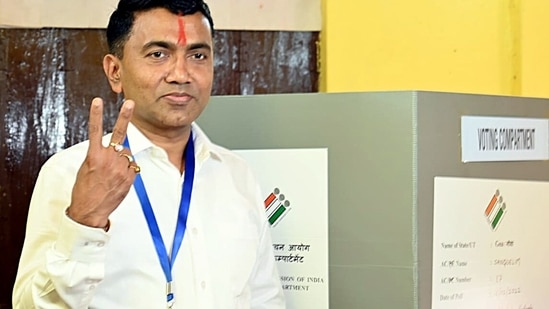 Meanwhile, the Congress on Wednesday claimed that talks were already underway with the Aam Aadmi Party (AAP) for obtaining support for government formation in Goa if there was a hung Assembly. The Congress is also claiming that MGP will support the Congress.
Full coverage of election results
MGP legislator Sudin Dhavalikarearlier said his party will decide its stand on any possible alliance after the Goa election results are declared, taking TMC into confidence. However, he also asserted that his party will "never support" Sawant as the chief minister candidate of Goa.
Follow live updates of counting
The elections to 40-member Goa Assembly were held on February 14.
What exit poll said
Exit polls have predicted a neck-and-neck contest in Goa between the ruling BJP and the Congress-led alliance. Both the key players are expected to get between 13 to 17 seats while the exit polls also predicted around 2 to 6 seats for the fledgling AAP and another 2-4 for the Trinamool and MGP alliance.
The Times Now Veto 2022 exit polls predicted 16 seats for the BJP, 17 for the Congress, the Aam Aadmi Party just 2 seats and Others coming in with 5 in the coastal state.
The India Today-Axis My India Exit Poll gave the BJP between 14-18, the Congress and its allies 15 to 20 seats, MGP nearly 2 to 5 seats and Others 0 to 4.
The ABP C-Voter, another leading exit poll forecast that the ruling dispensation BJP would retain power in the state with 13 to 17 seats, the Congress coming in second with 12 to 16 seats, the Trinamool Congress which is contesting for the second time in Goa likely to get between 5 to 9 seats and Others 2.
How to get Goa Assembly Elections 2022 Live counting updates on ECI website
Go to results.eci.gov.in
Click on General Elections To Assembly Constituency March-2022
Select Goa
The early trends will start coming in from 8am