Lin Laishram on Priyanka Chopra playing Mary Kom: 'A girl from Northeast could have been cast to represent us'
Updated on Jun 15, 2021 03:35 PM IST
Lin Laishram has opened up about discrimination in the casting process of the film on Mary Kom. Here's what she said about the film and Priyanka Chopra.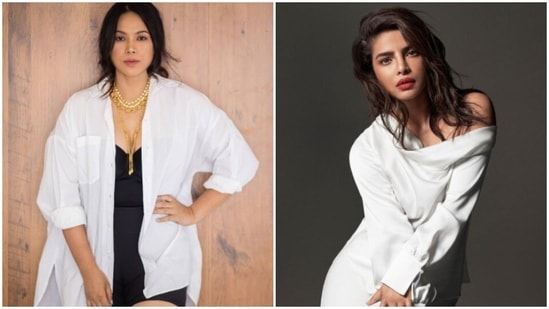 Model-actor Lin Laishram, who hails from Manipur, has spoken about discrimination during casting in the 2014 film Mary Kom. Lin said that though Priyanka Chopra Jonas, who played the protagonist, worked hard for the film, a girl from the Northeast or Manipur 'could have been surely cast to represent us'.
Lin Laishram essayed the role of Bembem in the 2014 national award-winning film. Directed by Omung Kumar, the film is loosely fictionalised on India's most famous female boxer Mary Kom. It tells the journey of Mary, a rice farmer's daughter in Manipur, from becoming a boxer to a five-time world champion.
Speaking to Free Press Journal, Lin said, "I admire Priyanka for her hard work, she really put in a lot of hours in order to look like Mary Kom but I always felt that casting is an important step in film. I believe in authenticity and inclusivity, so a girl from Manipur or the North East could have been surely cast to represent us...When it comes to playing an achiever from the Northeast a non-North Eastern person is chosen as seen in Mary Kom. On the other hand, why not cast people from Northeast also as normal Indians in all walks of life which we are."
On inclusivity in the industry, Lin said, "The latest example of great inclusivity is The Family Man 2. In the show, people are cast from Tamil Nadu and speak Tamil, representing their local culture and ethnicity, and it has been so widely accepted and appreciated. So, if south Indian culture can be accepted then why not North Eastern?"
In 2020, speaking with Hindustan Times, she had opened up about racism. "It happened in my building in Mumbai. I was in the compound and a middle-aged man walked passed me and called me coronavirus and kept chanting it till I left. I found it very strange because it was around February and by then we weren't so aware of the situation. I went home, read up and saw what was happening in China Town in the US and it was then that it hit me. It was so unfortunate," she had said.
Also Read | Amid Raj Kundra-Kavita row, Shilpa Shetty lists uses of Parsva Sukhasana asana: 'Want to calm myself down'
Lin appeared in the 2007 film Om Shanti Om in a cameo role. Fans also saw her in the 2015 film Umrika opposite Prateik Babbar, in Rangoon (2017) and Axone in 2019.
Personalise your news feed. Follow trending topics