Pathaan advance booking: Shah Rukh Khan's film sells 2.5 lakh tickets, set for
₹

300 crore worldwide opening weekend

Jan 20, 2023 12:58 PM IST
The advance bookings of Pathaan show a big promise and the film has already sold more than 2.5 lakh tickets in one and a half day. Trade experts believe it will open with a first day figure of ₹35-40 crore.
The advance bookings for Shah Rukh Khan-Deepika Padukone's new film Pathaan were supposed to open on January 20, Friday, but they opened a day prior and the film has already sold more than one lakh tickets across major cinema chains. As per trade experts, Pathaan is set for an opening collection of ₹35-40 crore when it releases on January 25. It is also likely to gross ₹150-200 crore in India over the first weekend and ₹300 crore worldwide. (Also read: John Abraham says 'entire nation missed' Pathaan co-star Shah Rukh Khan)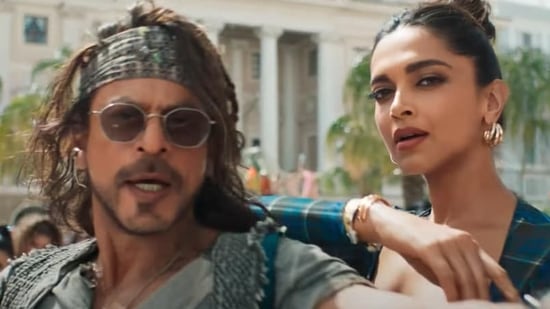 Trade analyst Atul Mohan has shared that a total of 90,000 tickets were sold on the first day of the advance booking. He added that PVR has sold 35000 tickets, INOX sold 30000 and Cinepolis sold 25000 till 9pm on Thursday, January 19. Speaking with Hindustan Times, Atul said, "The trend is that the advance bookings are at highest on the first day, and then it peaks on the day before release. We can safely say that the shows are good. Four out of five screens are being given to Pathaan at most properties like Cinepolis, PVR and INOX etc." As per reports, the film has sold tickets worth ₹15 crore.
Directed by Siddharth Anand, Pathaan stars John Abraham alongside Shah Rukh Khan and Deepika Padukone in the lead roles.
Film exhibitor Akshaye Rathi believes Pathaan is likely to score anywhere between ₹150 crore to ₹200 crore over the first weekend. The fact that the film will get a five-day weekend, will only add to better numbers. "Advance bookings were meant to be open on the 20th of January but with anticipation, it opened on Thursday and the premium formats such as IMAX opened a day before. We are hoping that the movie will open with good numbers."
Talking about his projection for the opening collections of Pathaan, Akshaye added, "Purely by the trajectory of the traction that the film has got, and the fact that it will be a working weekday (on the day of Pathaan release), it could be ₹35 crore or even beyond that. The trends are pretty encouraging everywhere (tier 1 as well as tier 2 cities). Also, this is a five-day-weekend, we could see anywhere between ₹150 crore to ₹200 crore weekend collection."
Producer and film business analyst Girish Johar said, "Box office is very dynamic and the numbers for advance booking for day one and first half of day two - all languages and all formats- are very good. It is contrary to how films scored last year, it is really heartening. The film has already crossed 2.5 lakh ticket sales. I see the film making anywhere between ₹37- ₹40 crore on day one. If everything is on track and the film is what the audience expects it to be, Pathaan may safely gross ₹300 crore worldwide by the end of the first weekend. In India, it can do ₹175- ₹200 crore."
Part of the credit for the huge figures of the collection also goes to the fact that the ticket prices have also been hiked for Pathaan. However, major pull for the traction can be credited to the fact that Shah Rukh Khan returns to screen after a gap of five years with the film. His last film, Anand L Rai's Zero, released in 2018. With actors such as Dimple Kapadia and Ashutosh Rana set to march beside the star, Pathaan has all the star value to pull the audience.