Golden Globes 2023's 5 best moments: From team RRR's celebration to Eddie Murphy's Will Smith joke
Jan 11, 2023 10:32 AM IST
Golden Globe Awards 2023 was all about Will Smith, Scientology jokes and hilarious speeches. Watch the best moments here.
The Golden Globes returned to the air Tuesday with a red carpet flush with celebrities, comedian Jerrod Carmichael as a hesitant emcee and numerous trophies, including one for Telugu hit RRR.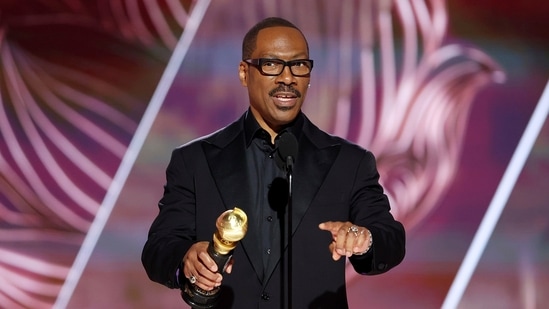 (Also read: Golden Globe Awards 2023 live updates: RRR loses Best Picture Non English award; House of the Dragon is Best Drama)
Here are the five best moments from the show:
Team RRR breaks into a celebration
After their Best Song win, beating the likes of Taylor Swift and Rihanna in the category, Team RRR broke into a celebration. Jr NTR, SS Rajamouli and Ram Charan jumped out of the seats as Jenna Ortega announced the winner as Naatu Naatu.
Jerrod Carmichael roasts Tom Cruise over Scientology
Host Jerrod Carmichael was introducing presenters Glen Powell and Jay Ellis, Tom Cruise's Top Gun: Maverick co-stars, when he appeared on stage with three trophies in his hands.
"Hey, guys backstage I found these," Carmichael said. "[It's the] three Golden Globe awards that Tom Cruise returned. I'm just a host briefly, or whatever, but I have a pitch I think. Maybe we take these three things and exchange them for the safe return of Shelly Miscavige."
Shelly Miscavige is the spouse of Scientology founder David Miscavige. Tom participates openly in church activities. Shelly has apparently been absent from public view for a long time. Tom Cruise made the decision to return his three Golden Globe awards public in May 2021.
Eddie Murphy's Will Smith 'punchline'
"I want to let you know that there is a definitive blueprint that you can follow to achieve success, prosperity, longevity... Just do these three things," Murphy told the audience.
"One, pay your taxes. Two, mind your business. Three, keep Will Smith's wife's name out your f***ing mouth!"
Jennifer Coolidge's hilarious speech
The Whit Lotus star Jennifer Coolidge was hilarious as ever. She put her award on the floor to focus better on giving her speech. She thanked Ryan Murphy among those who kept giving her small jobs from time to time to keep her afloat, while she 'milked American Pie' as much as she could. She also thanked Reese Witherspoon for giving her Legally Blonde and made Mike White tear up with her gratitude.
"Even if this is the end, you sort of changed my life in a million different ways," Coolidge told Mike White. "My neighbors are speaking to me, things like that."
Michelle Yeoh tells the 'wrap-it-up' music off
As Michelle Yeoh finally won the Golden Globe after 40 years in the industry, she was in no mood to let the 'wrap-it-up' music rain on her day. She said, "Shut up please. I'll beat you up," as the music started playing. She won the Golden Globe for best actress in a musical or comedy film for Everything Everywhere All At Once, a hit sci-fi flick about surreal parallel universes.