Twitter says leaked plot of Mohanlal's Ram has similarities with Shah Rukh Khan's Pathaan, fans defend it
Feb 01, 2023 06:49 PM IST
Twitter thinks the leaked plot of Mohanlal's Ram has similarities with Shah Rukh Khan's Pathaan. Here's how Mohanlal's fans have reacted.
Mohanlal, who has had a string of flops in recent times, is currently shooting for Jeethu Joseph's upcoming Malayalam thriller Ram. The plot of Ram has allegedly leaked on social media and many have compared it with Shah Rukh Khan's Pathaan. However, Mohanlal's fans have defended the comparison and said the plot of Pathaan is similar to every Mission Impossible film ever made. (Also Read | Pathaan: Shah Rukh Khan film grosses ₹634 crore worldwide, highest ever one-week collection for a Hindi movie)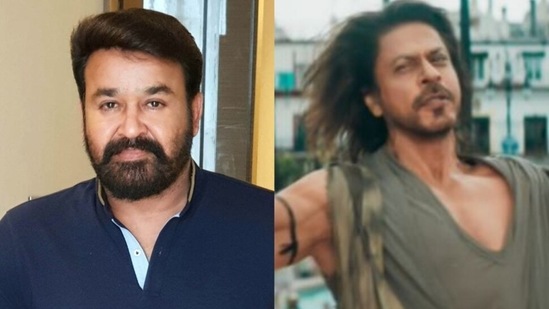 Reacting to the leaked plot of Ram, some people called it Pathaan 2.0. A Twitter user shared the alleged leaked plot synopsis of Ram. The plot reads, "The film focuses on the efforts of R&AW to track down an agent and former spy of the organization. Ram Mohan, who went rogue and disappeared. The military needs his mental and physical abilities to deal with Bael, a terrorist group that possesses nuclear weapons capable of destroying an entire nation."
Several Twitter users in the comments section pointed out that the plot is very similar to that of Pathaan. A person wrote, "For people saying it's the plot of Pathaan, literally every Mission impossible movie has a similar plot - it doesn't really matter as long as the execution is different and good (sic)." Another Twitter user wrote, "All spy films are about agents going rogues. There is nothing new in them but for the presentation which makes all the difference (sic)."
Ram, which will be released in two parts, marks the reunion of Mohanlal and Jeethu Joseph after Drishyam 1, Drishyam 2, and 12th Man. The film also stars Nayanthara, Sanjay Dutt, Trisha, and Indrajith Sukumaran.
This will be Trisha's second Malayalam outing after she made her debut with Hey Jude starring Nivin Pauly a few years ago. It is believed that Trisha will be seen playing Mohanlal's wife. She will feature with the Drishyam actor for the first time.
The movie will be produced by Ramesh P Pillai and Sudhan S Pillai under the banner of Abhishek Films. The first part of the franchise is expected to hit the screens later this year.
Mohanlal was recently seen in a single character Malayalam film Alone, which released last week and sank without a trace at the box office.