Shark Tank India: Anupam Mittal fights with Aman Gupta over pitcher in promo video, says 'bakwas karoge toh...'
Jan 18, 2023 01:13 PM IST
Shark Tank India judges Anupam Mittal and Aman Gupta confronted each other as they fought over an entrepreneur pitching his business in the latest episode. Here's what happened. Watch video.
Shark Tank India judges Anupam Mittal and Aman Gupta will be seen going after each other in the latest episode. On Wednesday, Sony Entertainment Television shared a new promo, where the two sharks were seen slamming each other as they countered one another's remarks, while speaking with an entrepreneur pitching his business proposal. While Aman called himself the 'king of Amazon' to attract the pitcher to his offer worth ₹60 lakh, Anupam said Aman 'does not know what he is talking about', when he claimed many of the tech companies that Anupam had supported 'had shut down'. Also read: Viral LinkedIn post details how Shark Tank India judges' companies are actually drowning in losses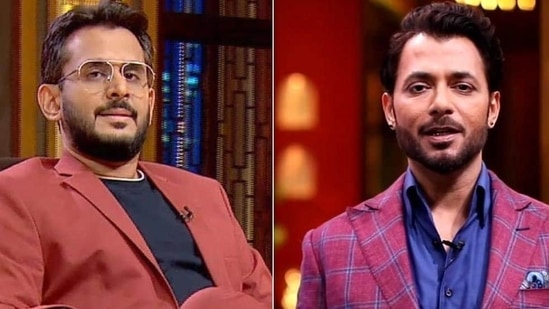 At the start of the clip, Aman told a pitcher, "You are not only a product company, you also have to become a brand. I want to make you an individual offer. You have just come to Amazon and Flipkart, aur wahan ka raja mein hoon (I am the king of e-commerce platforms like Amazon and Flipkart). ₹60 lakh for 10 percent..." While Aman's statement attracted reactions from fellow sharks – Namita Thappar laughed and Peyush Bansal gave Aman a look – Anupam Mittal joked about his remark. He said in Hindi, "Stop talking about Amazon and praising your own self... With this technology, I can help you (the pitcher) a lot as I understand your need. My whole business in based on technology."
In response to Anupam's comment, Aman said to the pitcher, "Bohut sari companies band bhi ho chuki hain jo yeh kar rahe honge (a lot of the companies he's speaking about have shut down)." Anupam looked angry as he said, "Ye kya keh rahen hai inko bhi nahi pata (Aman does not know what he is talking about). Please think and come back (to the pitcher), I am not saying anything just to counter him." A furious Aman Gupta shot back, and said, "Bhai saab ko hi pata hai har cheese, hume toh kuch nahi pata, hum toh nadaan bande hai yaha pe (Anupam brother knows everything, I know nothing, I am a clueless person sitting here)..." Anupam then told Aman, "Bilkul, bakwas karoge toh yahi realise hoga (yes, if you talk rubbish, you can only realise this)..."
The first episode of Shark Tank India season 2 premiered on January 2, 2023 on SonyLIV and Sony Entertainment Television. The show is hosted by comedian Rahul Dua. It features six sharks – Anupam Mittal (founder-CEO of Shaadi.com), Aman Gupta (co-founder-CMO of boAt), Namita Thapar (executive director of Emcure Pharmaceuticals), Vineeta Singh (co-founder-CEO of SUGAR Cosmetics), Peyush Bansal (founder-CEO of Lenskart.com) and Amit Jain (co-founder-CEO of CarDekho Group and InsuranceDekho.com). Ashneer Grover did not return to the latest season. Last year, Ashneer, the co-founder and CEO of Sequoia and Ribbit-backed BharatPe, and his wife Madhuri Jain Grover (former head of controls at BharatPe) were ousted from the company amid lapses in corporate governance.