Tunisha Sharma death case: Bail plea of accused Sheezan Khan rejected by Mumbai court
Published on Jan 13, 2023 03:43 PM IST
Tunisha Sharma death case: Sheezan Khan's bail plea was rejected by a Mumbai court on Friday. The actor was arrested on December 25, 2022, a day after his Ali Baba: Dastaan-E-Kabul co-star was found dead on the set of their TV show.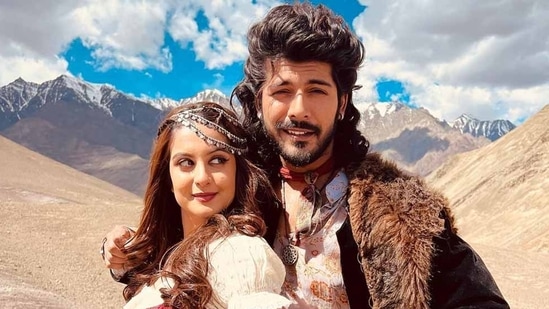 Sheezan Khan will continue to be in judicial custody in connection with Tunisha Sharma's death case. The actor's bail was rejected by Mumbai's Vasai Court on Friday, as per a news agency ANI. Sheezan Khan, who is the main accused in the case, is currently in judicial custody. Tunisha was found dead on the sets of her television show Ali Baba: Dastaan-E-Kabul at Palghar's Vasai on December 24. Also read: Tunisha Sharma spoke to a man named Ali on dating app before death
On Friday, ANI tweeted, "Tunisha Sharma death case | Bail plea of accused Sheezan Khan rejected by Vasai Court." Further details from the court's hearing are awaited. Sheezan has been in police custody ever since he was arrested on December 25, 2022, after Tunisha's mother Vanita Sharma had accused him of abetment to suicide and claimed that the actor 'used' her daughter. Tunisha's mother had also levelled allegations against Sheezan and his family, saying Sheezan used to beat Tunisha, and was forcing her to convert to Islam.
Ever since he has been arrested, Sheezan's sisters have been issuing statements saying he is innocent. Sheezan's lawyer and his sisters had refuted the charges at a press conference and claimed it was Tunisha's mom, who did not share a good rapport with her own daughter. They also said that Tunisha was suffering from depression due to her childhood trauma.
In an earlier statement, Sheezan's sisters Shafaq and Falaq Naaz had alleged that their brother was a victim of a media trial after Tunisha's death. They asked if their brother was being attacked because of his religion. "For all the people demeaning Sheezan - ask yourself this - are you talking based on the situation, or are you talking out of hate for a religion? Or are you talking out of influence from previous events? Stay woke, people!" read a part of their statement shared via Instagram.
Recently, it was reported that Tunisha had called a man named Ali, just hours prior to her death. Sheezan Khan's lawyer had told a Mumbai court that Tunisha and Ali had chatted on a dating app, before her death. In response, Tunisha's mother had said that her daughter was friends Ali, who was her gym trainer.
Topics