Deepika Padukone tried to pull a Frida Kahlo at Mumbai party in bold Sabyasachi lehenga
Nov 26, 2018 01:04 PM IST
At Ritika Bhavnani's Mumbai party for Ranveer Singh and Deepika Padukone, the bride surprised us with a daring look. Deepika stood out from the crowd thanks to her colourful Sabyasachi lehenga and elaborate Frida Kahlo-inspired flower crown.
Deepika Padukone surprised us with a dramatic look on Saturday. The newlywed actor went to a dance party -- thrown by husband Ranveer Singh's sister, Ritika Bhavnani -- channelling painter Frida Kahlo, one of the most recognisable faces in Latin culture. Even 64 years after her death, the Mexican artist turned style icon continues to inspire generations of people all over the world. Defined by those signature features — unapologetic brows, flushed cheeks, bold eyes, braided updo, an elaborate flower crown and a colourful floral outfit — Deepika's unconventional look is definitely unmistakably Frida. For the fun DJ night, Deepika eschewed classic saree and lehenga in favour of an unpredictable, statement-making bridal look. Her look is perfect for the non-traditional bride, who dares to break the bridal mould with an ensemble that is outside the box.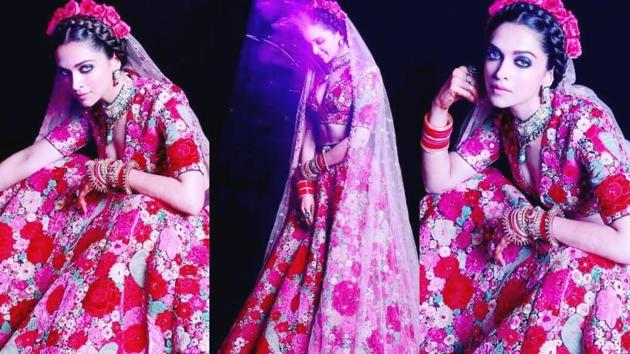 Frida proudly embraced her unique facial features (unibrow, mustache, etc.) and embellished her outfits with bright flowers and statement jewellery; historians speculate she wore long skirts to mask her right leg, which was mangled by childhood polio. Deepika effortlessly achieves Frida Kahlo's look, a helpful equation for you: Braided updo + flower crown + floor-length skirt + chunky jewellery + dramatic eyebrow. You might think channelling Frida means lots of clashing colours, but Deepika's Sabyasachi lehenga shows that's not a must. She chose one shade for her floral headpiece (red rose) and lehenga to masterfully bring the Mexican artist's look to life.
Deepika's 'Dil-guldasta' lehenga created by fashion designer Sabyasachi Mukherjee was intricately embroidered on Bordeaux silk with hand-dyed velvet appliques, silk-floss, beaten silver and gold thread and rose-tinted crystals and rhinestones. The bohemian look was accessorised with a statement gold choker set featuring uncut diamonds, emeralds, pearls and jadau from the Sabyasachi Heritage Jewelry Collection. For a cool twist on the classic Frida look, Deepika wore a sheer, diaphanous, embroidered veil instead of a shawl.
Deepika also switched up her usual neutral and metallic eye shadows by pairing her floral lehenga with a heavy smoky eye. While we admire the Padmaavat actor's more toned-down make-up and sleek hairstyles, we love how she played it up for the Mumbai party with a bold, sexy beauty look. If you'd prefer to skip penciling in Frida's signature unibrow, go for exaggerated dark brows and define the eyes with sultry black eyeliner on both her upper and lower lids like Deepika's.