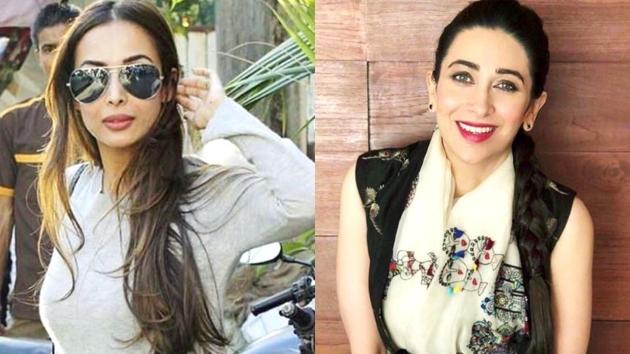 Malaika Arora and Karisma Kapoor's rainy day outfits will make you stop and stare
Whether it's skirts or maxis, we're always searching for ways to reinvent our monsoon wardrobe, and right now we've zeroed in on two unexpected looks spotted on Malaika Arora and Karisma Kapoor. Taking notes.
UPDATED ON JUL 19, 2018 07:44 PM IST
When you boil it all down, fashion is forever tied to feeling. What you put on in the morning can offer a boost of confidence. Well, there is good news for those of us looking for an added dose of happiness on a rainy day: This Karisma Kapoor outfit.
+ +
Karisma was spotted grabbing lunch with friends, former VJ Malaika Arora and socialite Anu Dewan, on Wednesday. Karisma tried to stay incognito with a pair of dark sunglasses, but her OOTD made a loud statement as she left a restaurant. Not to get cheesy on you, but it's hard not to smile when you see Karisma's eye-catching rainbow striped dress.
+ +
Like Karisma, pair the stripes with other colourful pieces (yellow sandals) or with something white or black, so they pop. Karisma's look proves that part of the fun of rocking rainbow stripes is the fact that they're carefree. As she proves, there really isn't a wrong way to wear rainbow stripes because, hey, it's all about what makes you happy.
+ +
But if you're worried about coming off as a little childish, we'd like to draw your attention to Malaika's monochrome look that is a dressier alternative. It's no secret that crop tops have been an It item in the closets of stylish celebs over the last few years, but taking a look at Malaika's luxe, off-duty ensemble made us realise that a tiny crop top and high-waisted wide-legged trousers combination is the perfect day-time look, if you ask us.
+ +
Don't own a crop top? No problem. Just knot the front of your tee and pair it with a high-waisted skirt for an outing with friends.

Follow @htlifeandstyle for more
Close